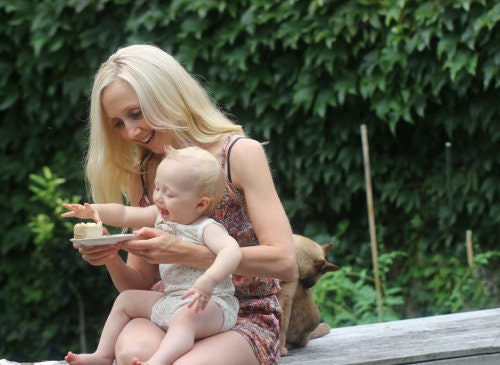 motherhood: buffy ellen
motherhood: buffy ellen
Mother's Day is this week here in New Zealand, so we asked the lovely Buffy Ellen of Be Good Organics some questions about being a mum, how she will spend her Mother's Day, and a little about her own lovely mum too. Be Good Organics is a wholefoods nutrition blog, and Buffy has a 14 month old daughter, Mila Belle.
Tell us a bit about you and your little one
Mila is our first child and is a bundle of energy - already she has such a little personality I can't believe it! I'll turn around and there she is at the front door holding my car keys in one hand and my credit card in the other, as if to say, hey Mum I'm ready to roll! As for me, I run a plant-based whole foods recipe/nutrition blog and store called Be Good Organics, and am also back completing a degree in Nutrition and Naturopathy which I love. I live with my partner Tony and our two cheeky Burmese cats, Zeus and Luna.
What surprised you the most about being a mum?
How amazing the little moments are. The ones no one tells you about but are the most special. When I pick Mila up from pre-school and she catches my eye and comes running towards me with open arms. How she looks around cheekily when she knows she's about to touch something she's not meant to, as if to say 'are you sure I can't just this once Mum?'. How much is going on in her little brain and how smart she is becoming already. Yesterday she crawled up onto her massive wooden rocking horse which is far too big for her, her feet still swinging in mid air when she sat on it, but she was so proud to show me she could do it on her own! And when we went to the park yesterday she only wanted to swing on the big swing, you know with just the open seat, and hold onto the chains on either side - like a big girl. Even though I insisted on holding her back while she was swinging, because gosh she's only 14 months! Those little things are all amazing colourful incredible surprises.
What are some words you live by as a mother?
Be present. Be open. Be willing to learn from your little person - I feel like Mila has already taught me so much about myself. And enjoy all those little moments behind the scenes that aren't necessarily always caught on camera or by someone else - they are truly the most precious.
How do you find balance in your life?
That's a constant challenge! What with my business and blog, studies, and looking after Mila, it's definitely a fulsome life right now. I have an amazing supportive partner though, my partner in crime :) And I am very lucky to have exceptionally supportive grandparents - my Mum looks after Mila two afternoons each week and I could not do it without her - she's amazing.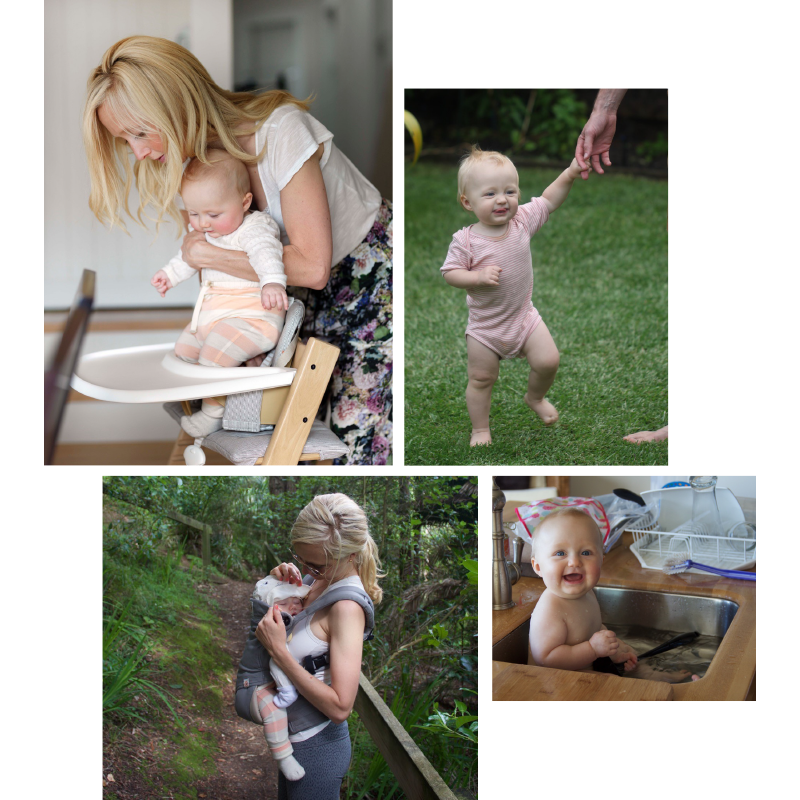 Words of wisdom for new parents?
Go easy on yourself. Nothing is set in stone as to how you should do things, just do what feels right for you, your partner and your baby. There's no such thing as perfect so don't worry about trying! Also I think remember that being a mother or parent is a completely natural process, we've been doing this from an evolutionary perspective for centuries, well before blogs, apps, websites, how-to books and instagram came along! So go with your intuition - as long as you are giving your little one unconditional love, that is more than enough.
Has becoming a mother changed you?
Made me more present, more forgiving, more flexible. That not everything can or needs to be meticulously planned each day/week - adding a baby to your life definitely teaches you that!
What are special ways your mum bonds with your little one?
I am so lucky here - my mum picks Mila up or I drop her off every Tuesday and Thursday at 2.30pm, and Mum plans an activity to do with her for the afternoon. The things she gets to do are amazing, much more fun than she has with me I'm sure! This week they went out west to a farm animals park and Mila spent time with all the baby pigs and goats. I love getting the pictures sent back from Mum's various outings. They have a picnic lunch/dinner somewhere then Mum drops her back at 8.30pm for a feed then bed. Mila and I are both so lucky to have her! I think it's so special Mila has such a close relationship with my Mum, and also with my Dad and Tony's parents too. My grandparents were a lot older when I was growing up so I didn't have as close a bond, so I'm so over the moon that Mila is able to experience something so wonderful as she does.
Has your relationship with your mum changed since you became a parent? If so, how?
I have so much more respect for how hard my Mum worked to take care of us. She was a single mum, working full time, with four kids. I don't know how she did it! I now see her with Mila and she's so relaxed. It's been really nice to see her like that and realise that's the love she had for us kids all the way through too. I don't think you give your parents nearly enough credit when you're growing up for what they do for you, so for me becoming a mum myself has definitely changed that. Also knowing how much I deeply love our little girl has made me realise that that's how Mum must have felt about me too. It puts all the ups and downs in life very much in perspective and is a really nice feeling of life coming full circle.
What is your ideal Mother's Day?
I love food and fresh air, so taking mum out for a nice long walk (the Takapuna to Milford beach trip is a favourite), then stopping for lunch somewhere nice. That and making her a special cake to enjoy as a dessert treat (this Chocolate Raspberry Tart is always a favourite!).
A day in the life of Buffy...
I live… in Westmere Auckland with my partner Tony, our little girl Mila, and our two crazy neurotic loving Burmese cats - Zeus and Luna.
I am currently reading… recipe books! Always, I'm addicted (it's in my blood) - there's a constant pile by my bed. I'm also reading a bunch of Lonely Planets on St Petersburg, Stockholm, Tallin and Helsinki as we've just booked a holiday there in June - I can't wait!
I'm listening to… Apple music playlists and their Chill Radio, I love that it recommends new playlists for me every week based on my listening history, so there's always something new. I love chill, international music, especially to work/study to - Cafe del Mar is a perennial favourite, or any uplifting Yoga style playlists.
My weekends start with… a Saturday morning walk, always, with Tony and Mila, then stop off at a cafe (we're trying to go somewhere new each week at the moment to try something new). We share a few vegetarian items (I'm a sucker for a good date scone and soy latte), read the paper, then head back home. Those mornings are my favourite time of the week! So much so that we normally do a repeat on Sundays...
One item I can't live without is… my reusable glass KeepCup - I try to use as little plastic/disposable items as I can, so it's brilliant for carrying hot drinks/lattes. I think every coffee/takeaway beverage drinker should use one! Plus they're pretty stylish so you still feel like you're having 'luxurious' cafe experience - even if you're at home.
Your must-have Nature Baby essentials?
1. Sunhat - Mila's been taught at preschool that she's not allowed outside without it (brilliant), so she now goes and puts it on herself to tell us she wants to head out!
2. Long sleeve cotton bodysuit in Natural. Actually everything from the natural range - they go with anything!
3. Baby Bottom balm - we started Mila off using nothing just water for many months, but occasionally when she does get a little bit red, this stuff is lovely - not scented, very natural and soothing, and no animal testing - great.
Thank you so much for your beautiful words and images, Buffy, and Happy Mother's Day to you and your Mum!
xx Nb