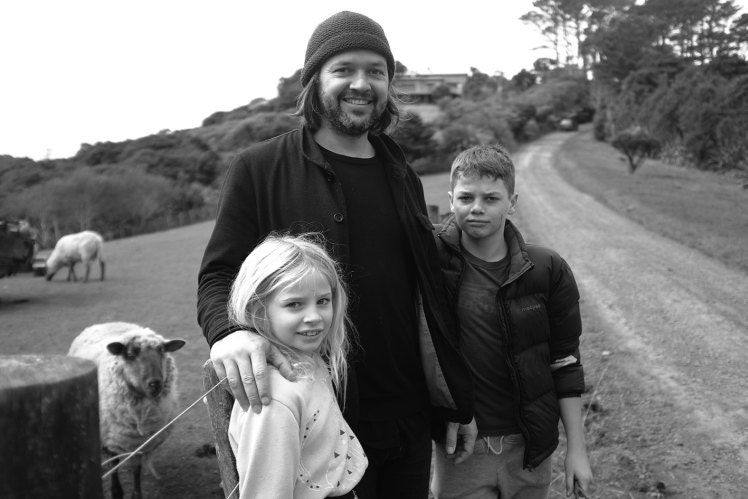 fatherhood: jacob faull
jacob faull
Together with his wife Georgia, Jacob started Nature Baby in 1998 as a quest to find natural & innovative products for their own family. The doting dad of Nature Baby and three kids, Eliza (16), Nat (13), and Thea (7), shares with us some of his fatherly wisdom...
What is/was your best way to bond with your kids?
Bath times were a big one. These days they're old enough to bath themselves but for the youngest it translates to a bath-to-bedroom delivery service, care of rolling my youngest into a sausage (towel roll) and throwing her on the BBQ (bed)... email me for a step by step recipe.
What surprised you the most about fatherhood?
There's a big shift from you as an independent to having dependants. They really do need you all the time, so I found you have to develop a dolphin-like brain to meet their needs while keeping your own somewhere in there.
Any words of wisdom for new dads or dads-to-be?
Don't try to do too much and then be frustrated you're not getting it all done. It's a changing world so while negotiating these choppy waters, always have a sense of where you can be most useful, sometimes that's outside having a cup of tea as much as it's changing nappies on the front line.
What did you learn from your own dad about the journey of fatherhood?
My father was a school teacher but paradoxically never really tried to teach me anything. He was all about some form of happiness, he always looked for the best in a situation - an eternal optimist.
What are/were your essentials for getting through the first few weeks and months?
Whiskey on the first night... Then lot's of cotton wipes and a trusty drawstring gown - for new dads helping out with the overnight nappy change they are logistical necessities!
A special thanks to Triumph & Disaster, and Hallertau for providing our deserving dads with some Father's Day essentials. And happy Father's Day to all you doting dad's! xx Nb