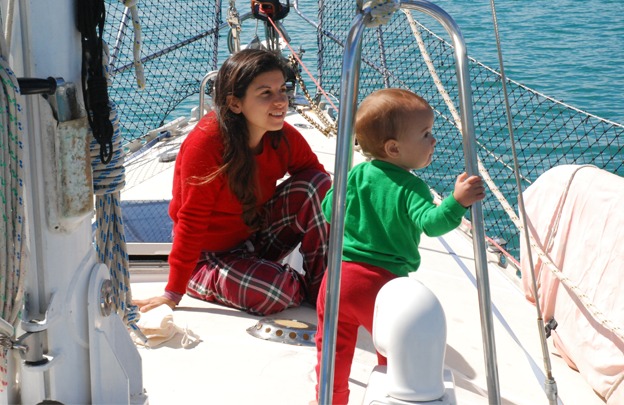 motherhood: jessica lloyd mostyn
a family at sea
Jessica Lloyd-Mostyn and James left England in 2011 aboard Adamastor, a Crossbow 40, intending to sail around the world in a couple of years. After crossing the Atlantic and enjoying several months in the Caribbean they reached Panama, where they decided to take longer over the trip and also to start a family. Their daughter, Rocket, was born in Mexico and logged her first sea miles on their Pacific crossing in March of 2014. They are currently in New Zealand where they are expecting their second child this July.
James is an architect whilst Jess is an artist and designer. In addition, they use their journey to sea-trial various products for the boat and the baby, photographing and writing reviews on them and championing eco-minded solutions that they truly believe in.
We were lucky to meet Jess and Rocket on their New Zealand Journey, Jess has shared with us some of her adventures as a family at sea:
Why did you decide to make such a major life change?
To be honest, it started off as a bit of a joke, a flippant notion of a fantastic adventure to be had. Slowly we talked about the realities of finding a boat, learning how to sail, renting our house out in London and getting everything ready to go. We were actually very happy and settled with our lives in the city but both share a love of the quest for new experiences so it all grew as an idea from that. Once we realised that we weren't going to circumnavigate in a couple of years it somehow seemed like a natural progression to start planning our family on board.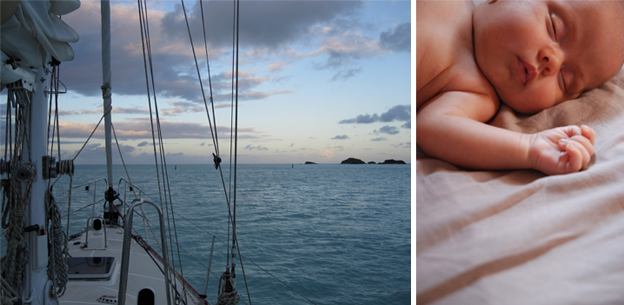 How would your life be different if you were a mother in England?
For starters I wouldn't have a full-time husband and father by my side as life in England would inevitably mean that James and I would both be working full time. We'd have the lovely bonus of being closer to family, which would hopefully mean some babysitting offers! But I'd imagine that we'd have some form of daycare for Rocket and perhaps be less close a family as a result of that. Our lives on board mean that in general the three of us spend all day together, which definitely has its challenges as it means that James and I have to take turns to get anything done now that Rocket is a fully mobile and inquisitive toddler.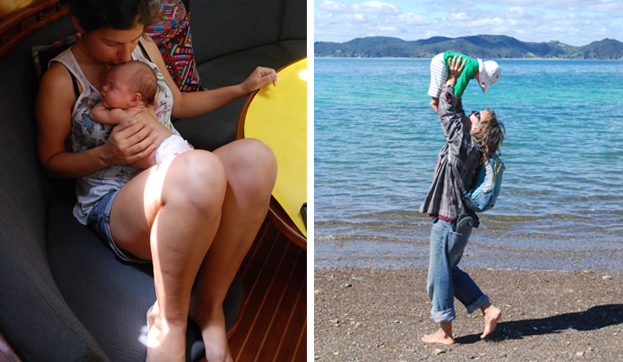 You say on your blog, that being at sea has made you more aware of the environmental impact of what you consume. What are some examples of this in relation to being a Mum?
Living on a boat is an opportunity to be apart from your cultural background, question the real need for a lot of baby 'gear' and aim to really consider what will be of most benefit to you, your partner and your child. We are advocates for using cloth nappies, particularly having seen so many disposables washed up on beautiful beaches. We carry a finite fresh water supply so I had to commit to handwashing the nappies and still conserving water, which has been surprisingly easy. We also catch rainwater when it's possible. Likewise we needed to source a detergent that was kind to the planet, as we'd be washing it straight into the ocean and the food chain.
Being at sea do you have a special bedtime routine?
If we're sailing overnight then Rocket will snuggle down with me in our bed as soon as it gets dark. I'll read to her, sing to her and give her a last long feed before bed. If the seas are big and bouncy then I set up the playpen and sleep-pod on top of our wall-to-wall bed, keeping her secure as we sleep. Mostly bedtime takes place when the boat is lying peacefully at anchor or sometimes on a dock at a marina. Now she's 18 months she's transitioned into her own cabin and we take it in turns each night to carry her in for a final feed and get her to sleep. All very normal and domestic, it just happens to be on a boat. If she won't settle then we pop her into our baby carrier and walk the deck or the docks to soothe her.
What challenges do you face as a family at sea?
Our lifestyle is definitely dominated by the elements. We rarely run our engine for power and keep a low-fi boat that relies on solar panels and a wind turbine to power our electrics. Obviously the wind keeps us moving as well. But wind, sun and water are all part of the rich backdrop of sailing life, rather than something we view as a challenge. The greatest challenge is probably spending so much time together. All babies have demanding moments and parents succumb to tiredness at times so we try to strike a balance and support each other, tag-teaming as alpha parent. Socialising with other babies is easy as there are so many sailing families out there. The things that people assume will be challenging, lifejackets, getting in and out of the dinghy, safety on deck or bad weather is all actually very straightforward. We always sail safely and cautiously, even as a couple, so we try to plan for every passage to be as easy on all of us as possible.
Most surprising thing about becoming a Mum?
The biggest surprise for me was that this little person was just that; a personality already fully-formed at birth. Rocket was just so totally herself, from the very beginning, and it was quite natural and easy to learn how to be a parent and exactly how to parent her as she always gave us great cues to what she wanted and needed. I'm still in awe that we managed to conjure such a creature into existence and that we're lucky enough to have such a bouncy little girl in our lives.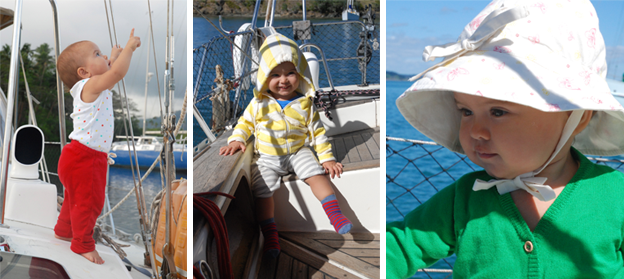 Thanks so much Jess, for sharing some of your experiences with us.
Now, over 3 years, 18,000 miles and 32 countries since they set off you can follow their progress at www.water-log.com.