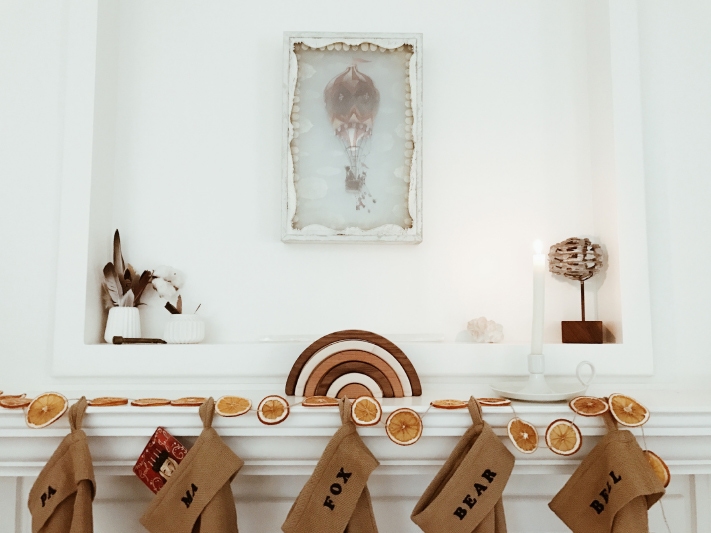 a christmas tale from the ozarks: nicolette gawthrop
a tale of christmas: nicolette gawthrop
Here in New Zealand, we are used to Christmas marking the beginning of summer holidays, ocean swims, and outdoor barbecues. But on the journal this Christmas Eve, we have the lovely Nicolette Gawthrop telling us about how her & her little ones will be spending Christmas in the Ozarks, USA.
Tell us what your Christmas season is like where you live
Christmas season comes late fall, just as all the trees are becoming bare, here in Arkansas. In the years that I've lived in the Ozarks, the only thing that is predictable about what the season will bring, is that the weather is unpredictable. Year to year it varies: one year we'll be bundled up in knits and woollens and the next year we'll be comfortable in short sleeves. Last year was quite warm, in fact.
What is one thing you love about having Christmas in this season?
When the weather aligns and there is a chance for snow, having the full experience of a White Christmas is lovely! I love warm knits and blankets and being cozy by a fire. I love the brightness that snow brings to the darkest time of year, surrounding the winter solstice.
Do you and your little ones have any special traditions?
The only tradition that we stick to every year, is fruit and cinnamon buns. We buy all the fruit that we love and make a special Christmas morning fruit platter to enjoy with cinnamon buns while we exchange gifts and lounge about in our pjs.
Christmas carols, yes or no?
The only caroling we attempt happens in our family van. I like to serenade my children with the classics. I think they enjoy it for the most part, although I was recently described as "embarrassing" by my seven year old. I think he's just trying to impress us with a new vocabulary word, and secretly loves it.
What will you be doing this Christmas Eve/ Day?
Our plans for Christmas Eve and Christmas Day are generally very laid back. We stay close to home and try to keep things very minimal. Because I live far from home, seeing (my) family is generally not an option. Our restaurant serves a Christmas Eve meal and we will likely visit for that and then get cozy at home in our pyjamas and stay that way through Christmas Day. We will invite friends over for an afternoon meal and spend the day together eating and enjoying each other's company, and my husband's father will join us as well.
What is the first thought that pops into your mind when thinking about Christmas?
Sweet Cinnamon Buns. We don't eat them regularly and I look forward to them as a Christmas morning treat!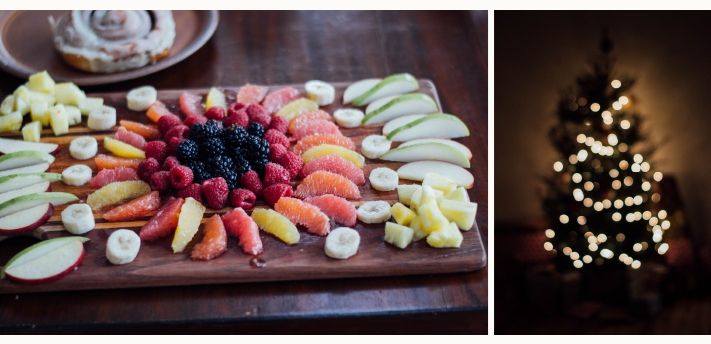 What is the number one item on your Christmas wishlist?
This year, the number one item on my Christmas list is time for self care. I'd love to be gifted a visit to the spa: a facial, a massage, a nice sauna, and just quiet space to be and feel refreshed.
What is on the menu for your Christmas meal?
Every year we approach our Christmas dinner a little differently, all depending on what we have available from farmers (usually through our restaurant) or just what we are craving. For instance a couple years back, we had a supply of Elk and so had burgers and oven fries as our Christmas Day feast. This year, we've really been enjoying make-our-own tamales and are planning to slow cook a molé sauce. We'll make a fresh napa cabbage slaw with avocado and cilantro and create side dishes in the southwestern cuisine theme. By we, I mean my husband, as he is the cook in this family- we brainstorm and come up with ideas and flavour concepts, but by and large, he is the executer of the meal preparation.
Do you have a Christmas tree in your house and any rituals that go along with it?
For the past few years, we have had a living Christmas tree. We purchase a potted fir or spruce from a local nursery with the intention of planting it in our yard. Our Norwegian Fir tree from last Christmas sat on our back deck through the year- we never got around to planting, and so we brought it back indoors for another holiday. In the spring I noticed a robin had built an amazing nest in the tree for four brilliant blue eggs. I love that the tree is alive, I'm glad we can enjoy it once again. Who knows, it might just serve as our tree for as long as it seems happy in its pot.

Any message to other parents or new parents for Christmas?
This is our daughter's first Christmas, and likely the last "First Christmas" we will have for one of our kids. I remember when we were new parents, (our first son was born just three weeks before Christmas) just having his presence made us feel a renewed sense of joy for the holidays. With that, through the years (this is now our seventh Christmas as parents), we've learned to balance a lot of expectations that we have placed upon ourselves to please all of the people in our life, including our children. We try to keep things relaxed and not make too big a deal of things, and we don't wear ourselves out checking off a giant list of Christmas Must Do's. While I think it's important to create lasting memories of fun holiday traditions, being healthy and relaxed and giving more than you intend to receive are the values we are aiming to demonstrate. This year especially, since our boys are getting older- we've found ways to include them in giving to those in need in our community.
We've also learned to let go of our expectations as far as gifting goes. It was very easy the first few years of doing Christmas with kids, when they had no expectations and had yet to grow in to having their own asserted likes and desires for material things. I happen to get really invested in the overall experience of gifting my children. I love the night before- arranging the items just so, creating a special scene for them to wake to Christmas morning. The first year that there was a hint of disappointment from my oldest child about an item he did not receive, I took it personally but over time have come to accept that that's just the nature of our growth together as a family. My children are not in the same place as me on my life's path. We aim to meet their needs and desires, but it can be hard to find a balance with what your child wants aligning with your own constitution. Same goes for family gifting. We have learned to let go of expectations that our family will gift our children according to our lifestyle choices, for ease we give an idea of needs and desires and try to not be too controlling (or offended) about the outcome. So for all the new parents out there- enjoy those early years of carefully curated gift preparations for your babies! Look forward to ever-evolving future Christmas excitements- I never thought I'd get so excited to gift my son Lego sets and build them with him! Try not to be too hard on the well-meaning relatives who gift the noisy light up toys they 'had' to get- and definitely don't beat yourself up if you end up returning said toy the next week. I know I'm relishing this last First Christmas, knowing that our baby won't really remember (or mind), but finding great joy in carefully selecting meaningful items for her and her brothers; excited to keep compiling Christmas memories here in the Ozarks.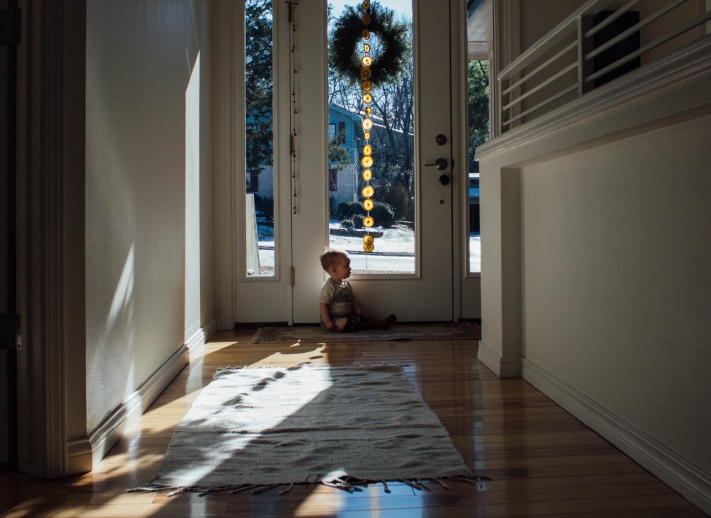 Thank you so much for sharing with us Nicolette, we hope you and your family have a lovely White Christmas! x