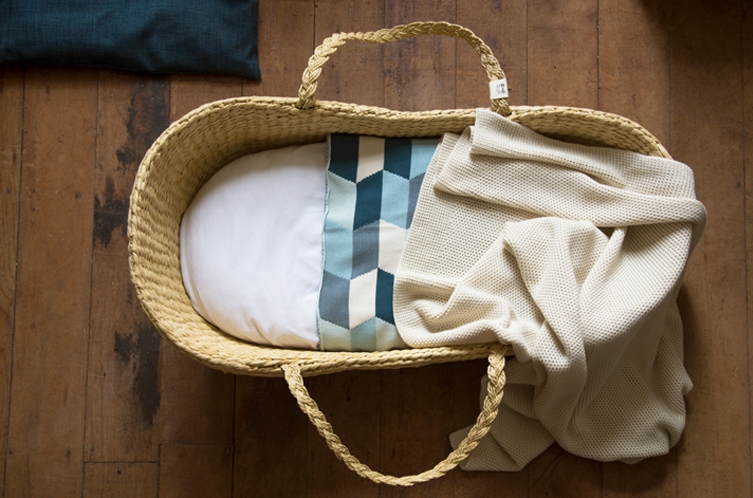 sleeping naturally: baby's first bed
A moses basket or bassinet is the perfect first bed for baby. As they are much smaller than a cot they will help little one feel cocooned, as they were in the womb. Baby will be in and out of sleep for the first few weeks, so having a portable bed makes it easy for you to keep little one near you throughout the day, wherever you are.
We think a natural mattress is one of the most important investments as baby will be spending so much of their time sleeping on a mattress. Our 100% natural mattress is made with an organic cotton and linen cover with a pure latex inner, which is a natural plant-based rubber that is environmentally friendly, durable, less flammable and very healthy. The mattress moulds to your little one, keeping them comfortable and supported for a good night's sleep.
We suggest using a wool mattress protector as an alternative to plastic covers. Wool will absorb moisture and prevent the mattress from becoming damp without affecting the breathability of the mattress. Because it is a natural product, the wool allows air to flow through the mattress effectively.
Organic cotton sheets are super soft and snuggly against little one's sensitive skin, and are nice and breathable to keep little one comfortable throughout the night.
Layer up with soft organic blankets in cotton or merino, depending on the temperature. It can be hard to know how many layers baby needs, so a rough guide is what you would be wearing or sleeping in, plus one warm layer. It is best to keep the room at approximately 18 degrees, and you can always check baby's temperature by putting two fingers on the back of their neck. We recommend having a few different blankets so you can mix and match depending on the season, what baby is wearing and the warmth of the room. A lightweight wool layer with a cotton blanket is good start!
sleeping naturally: baby's first bed
In their first few weeks and months, baby will spend much of their time sleeping. It can be an exciting (and sometimes daunting) task to set up your little one's sleeping environment, whether this be in your room or in their own nursery.
We feel it is so important for baby to have a pure and natural sleep set up, essential for a healthy beginning. Free from any synthetics or chemicals, ensuring a soft, breathable and safe sleeping space, designed especially for their early days.
We often have parents-to-be asking us what to sleep baby on, and how you set up their first bed so we have put together a wee guide below to help you set up your little one's sleeping space.

And don't forget a little swaddle wrap for the first couple of months, keeping baby from being disturbed by their own startle reflex, and helping them feel warm and secure. Sweet dreams, little one! xx Nb
Please note: this is intended to be a guide only, we recommend seeking advice from a health professional for further information.