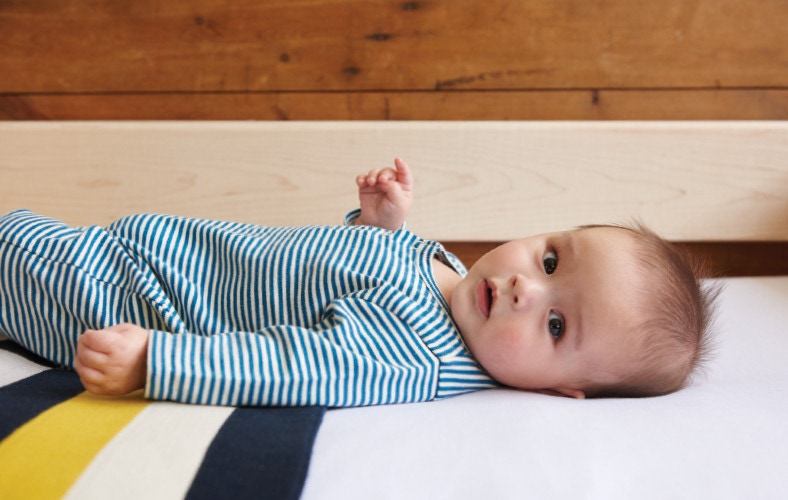 sleepwear for baby: our top 3
sleepwear for baby: our top 3
In the first few weeks and months of life, baby will spend much of their life sleeping, so it is important they have the right clothing or sleepwear to keep them warm and comfortable throughout the day and night. Our top 3 sleepwear styles are designed especially for baby's comfort, and with ease of nappy changing in mind. Natural fibres such as organic cotton and merino are super soft and breathable, making these the perfect fabrics for baby to sleep in. We often get asked which styles parents should choose for their baby, and why, so we have put together some of the features and benefits of our top three sleepwear styles below.

A newborn essential, our drawstring gowns are designed to keep little one warm with their feet and legs tucked in and covered. A snuggly, roomy cocoon with a drawstring tie, especially good for those night time nappy changes! The gowns also have fold down mittens at the cuff to prevent baby from any scratching.
Available in organic cotton in sizes 0-3M and 3-6M. Available in organic merino in 0-3M, 3-6M and 6-12M. Some colours also available in size PREM.
Our Stretch and Grow's are a classic footed all-in-one, with snap domes all the way down the front and around the legs for easy dressing and nappy changes. The wonderful thing about a Stretch & Grow is that it keeps baby's little feet covered, so you don't have to try and keep little socks or booties on to ensure they stay warm.
Available in both organic cotton and organic merino, in sizes 0-3M, 3-6M, and 6-12M. Some colours also in size PREM.
The Henley Pyjama Suit is another all-in-one suit that is designed to be worn during the day, and at night. With domes around the legs to facilitate easy nappy changes, and a couple of domes down the front to help pull over baby's head, this is another favourite for its comfort and convenience. As this one is not footed, it will need to be worn with socks or booties, but making it adaptable as little one grows, so parents love this style for its longevity.
Available in organic cotton in sizes 0-3M, 3-6M, 6-12M and 1 year.
We hope this little guide to our sleepwear essentials is helpful in choosing the best style for you and your baby. We also have a checklist of what your little one needs for sleep in the first few weeks, check it out here. xx Nb