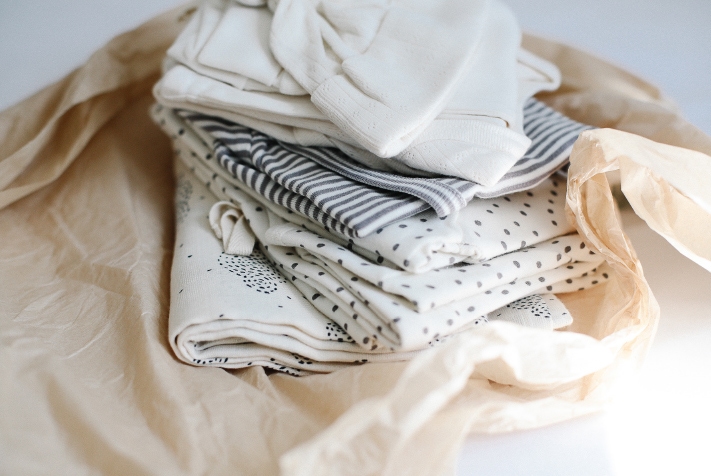 newborn essentials: jodi wilson
newborn essentials: jodi wilson
The lovely Jodi, from Practising Simplicity, has been a loyal customer and Nature Baby supporter over the past ten years! She is now expecting her fourth little one, and has recently shared on her blog about her favourite newborn essentials.
Jodi's recommendations for baby's first few months, trialled and tested over her three babies, are:
1. Kimono bodysuit: the kimono style all-in-one is her favourite. Not having to slip anything over baby's head, with a snap-closure under the bottom so baby's lower back stays covered and warm.
2. Pointelle singlet: with an envelope neck for easy dressing, Jodi describes the pointelle as "the softest, most delicate cotton you could ever swathe your baby in", and recommends to have a few of the singlets on hand for the newborn stage. A great first layer against baby's skin.
3. Cotton drawstring booties: we loved hearing how Jodi swears by our booties due to how they actually stay on little one's feet! Through the cooler months, wear them over socks or try the merino wool alternative.
4. Cotton knotted beanie: "incredibly soft and sits gently, yet snugly, around baby's head to prevent it falling down (or off!)". This is an essential for covering baby's head to keep them nice and warm.
5. Cotton sleeping gown: we weren't surprised this one was on Jodi's list - the ease of nappy changes, especially at night time, is so important.
6. Bodysuits & footed rompers: "The fourth trimester is all about comfort and a few bodysuits and footed rompers make for perfect day clothes. Easy to dress, easy to wash and very easy for your little one to wear." These are essential styles as your new baby drifts in and out of sleep in those first few weeks.
We recommend having a good read of the full blog post here, and hope it is helpful in preparing for the arrival of your new baby.
Thank you Jodi for your ongoing support and this wonderful journal post. All the best for the months ahead! xx Nb
All images by Jodi Wilson, Practising Simplicity