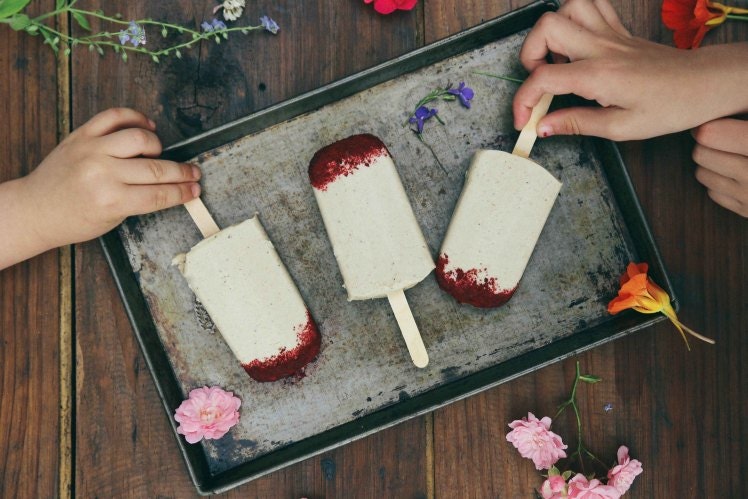 recipe: honey roasted banana popsicles
honey roasted banana & cream popsicles
By the lovely Eleanor at Petite Kitchen


We adore ice cream and frozen treats during the summer. These honey roasted banana popsicles are a great recipe for a wholesome homemade version. Roasting the banana in honey brings out a softer, sweeter and slight caramel flavour. We like to dip ours in freeze dried raspberry powder for a sherbet effect, finely grated dark chocolate also adds a magical touch.

2 large bananas
3 tbsp honey, maple works well also
3 tbsp melted butter or coconut oil
a sprinkle of ground cinnamon
1/2 cup cream or coconut cream
1 tsp pure vanilla extract
a pinch of sea salt
Optional: Freeze dried raspberry or berry powder for dipping
Note: It's best to roast the bananas when you are already cooking something else in the oven to save on power. The bananas can also be grilled in the pan, although keep a close eye on them as the caramel can burn easily.
Pre heat the oven to 180 C. Slice the bananas in to rounds and lay flat in a roasting dish lined with baking paper. Drizzle with the honey and melted butter or coconut oil. Sprinkle lightly with ground cinnamon.

Roast in the oven for 10-15 minutes or until caramelized and golden in colour.

Remove from the oven an leave to cool.

Add the bananas along with the remaining ingredients to a food processor or blender. Blend until smooth and creamy.

Pour in to popsicle moulds, and pop a stick in the center of each.

Pop in the freezer for at least 4 hours to freeze.
To serve, remove from the freezer then run the moulds under hot water for a few seconds to help loosen the popsicles. Dip in a little freeze dried berry powder if desired.
Makes 6 popsicles.
Yum, we hope you and your little ones enjoy! Thanks for the recipe, Eleanor xx Nb