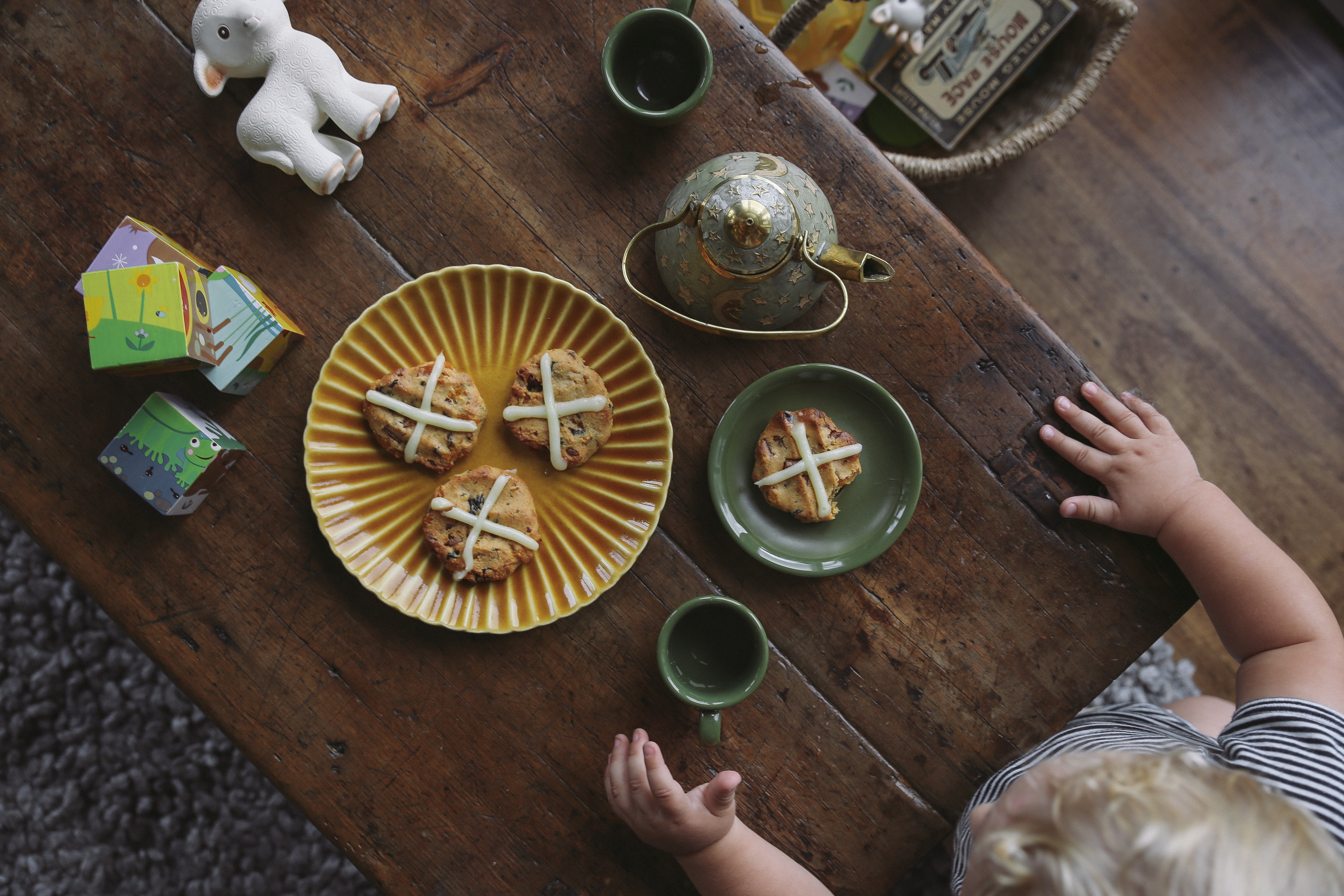 recipe: hot cross cookies
petite kitchen: hot cross cookies
Gently spiced, and speckled with apricots and prunes, these soft little cookies encapsulate all the lovely​ flavours of a hot cross bun. It's a simple recipe to prepare, and the little ones just love to get involved. Best enjoyed within a few days of making.
By Eleanor Ozich
You will need:
1 cup ground almonds
4 tbsp almond butter
4 tbsp coconut oil, melted
4 tbsp honey, melted
1 free range egg
1 tsp cinnamon
1 tsp pure vanilla extract
zest of one orange
1/4 cup dark chocolate, roughly chopped
1/4 cup prunes, diced
1/4 cup apricots, diced

For the cinnamon buttercream:
3/4 cup cream cheese or mascarpone, softened
2 tbsp soft butter
1 cup unrefined icing sugar
1 tsp cinnamon
To prepare:

Preheat the oven to 170°C, and line a tray with baking paper.
​Place all cookie​ ingredients in a bowl, and mix with a wooden spoon until combined. ​
The dough will be a little sticky, don't worry.
Using damp hands, roll into small balls and place 2cm apart on the baking tray. Press down gently using your fingers or a fork. Bake for 10-12 minutes or until lightly golden.​ ​
Remove from the oven, and allow to cool.

Gradually mix together the buttercream ingredients, until smooth and creamy. You can add a little more icing sugar or a splash or water if the consistency isn't quite right. Spoon into a piping bag with a round nozzle, or a sandwich bag, snipping off one corner. Pipe crosses onto each cookie.
Makes 10 cookies.
Enjoy snacking on these delicious hot cross cookies with your little bunnies this Easter! x