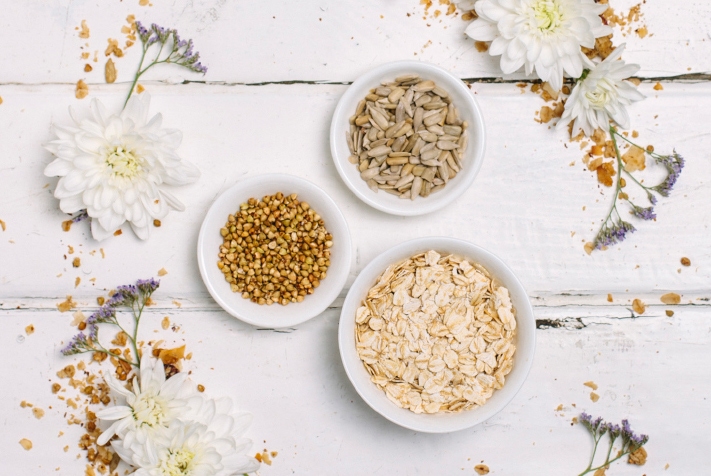 franjos kitchen: muesli for mums
franjo's kitchen: muesli for mums
We are so excited to launch the new Franjo's Kitchen Crunchy Muesli, a wholesome and delicious muesli for mums. Filled with vitamins, minerals and good fats essential for breastfeeding and milk production, as well as extra nourishing phyto-nutrients to support her and her energy levels during this very demanding time.
We asked Franjo's to tell us a little more about the muesli, the ingredients, and why these are perfect for breastfeeding mamas.
WHAT IS IN THE CRUNCHY MUESLI?
Unlike most other cereals on the market this muesli not only delivers on taste and texture but also on nutrition and functionality. As believers of limiting dairy and refined flour in one's diet to improve health this Tanker Topper Crunchy Muesli ticks the boxes. It is also honey and egg free meaning vegans can enjoy it too.
Australian oats
Oats are one of the most well regarded Galactagogues around and not to mention one of the original 'super foods'. Naturally high in iron and fibre this common comfort food is a winner for mums. The warming and relaxing quality of oats is thought to be one of the reasons behind a faster let-down, which in turn can build a healthy milk supply. (Galactagogue' is a Greek word for substances that promote lactation. Galactagogues have been used for hundreds of years by mothers around the world to enhance milk supply.).
Certified organic buckinis (Buckwheat)
Buckwheat is not related to wheat at all. It is actually a gluten free seed and is one of the best sources of high quality, easily digestible proteins. We love buckwheat because it is rich in the bioflavonoid rutin, a very important nutrient for mum's as it assists in strengthening connecting tissue. In addition, buckwheat can help to draw excess fluid from your body (fluid retention). We all know that puffy feeling in those last few months and post baby delivery don't we? Thank you, buckwheat.
Brewer's yeast
This highly nutritive yeast is naturally rich in B complex vitamins, essential for energy production and they are one of the key supportive vitamins for the nervous system. Brewers yeast also contains the blood sugar balancing nutrient chromium, perfect to help keep you running all day long and free from sugar lows.
It is also packed with iron, a nutrient commonly deficient in new mums as well as the anti-oxidant selenium to help keep you young, got to love that! Brewers yeast has been recommended by midwives and folk health care providers for years and it is one of the most traditional galactagogues going around.
Linseed meal
Linseed meal is a wonderful source of omega 3 fats, fibre and calcium as well as phosphorus. So the fact that our crackers have both means you are getting one heck of a good dose of these beneficial nutrients.
Walnuts
Think brain health and memory, anti-aging, anti-cancer, blood sugar stabilisation and weight control… and this is not all. Walnuts are one of the best nuts going so it was an easy pick to include them in our Crunchy Muesli. Enjoy not only the texture and taste, but also the health benefits!
Dates
The natural caramel! We love dates, their natural caramel sweetness and the fact they are rich in fibre. They are also naturally high in iron and have galactagogue properties.
We loved hearing from Franjo's about their new muesli, and their well chosen ingredients that specifically meet the needs of breastfeeding mums. Aside from the goodness it is made of, it also tastes delicious and the whole family will love it too!
You only need 60g a day to reap the functional benefits (and less if you are also eating Franjos biscuits or crackers), so we have a few different ideas for how you can enjoy the muesli!
1. As a sprinkle - add to your oats, porridge, or chia pudding
2. Add it to your smoothie, either before you blend it in or afterwards, for extra sustenance
3. With your favourite yoghurt
4. As a snack - it tastes good on its own too!
5. With chopped fresh fruit
Enjoy! xx Nb