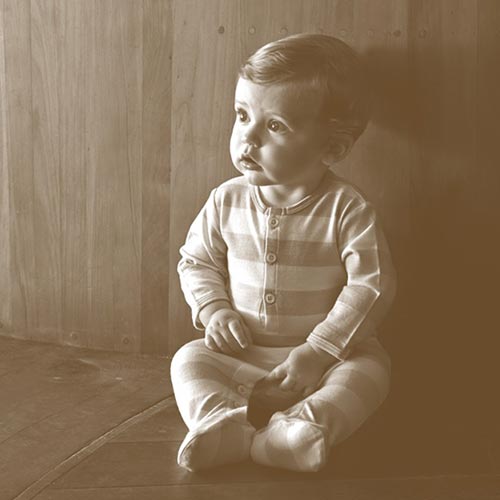 why choose organic merino wool?
Why Organic Merino?
Organic merino sheep are very happy and healthy. Fed delicious certified organic feed, they roam outdoors all year round and bath only in natural drenches. Their snowy fleece is then spun into beautiful yarns, processed free of nasty chemicals.
Healthy happy sheep = healthy happy babies = healthy happy families
ORGANIC: Organically raised sheep 100% pure and natural.
NATURALLY WARM: Pure merino fibres, soft and insulating made of the good and pure stuff, which means it's always soft, warm, comfortable and breathable.
SOFT TO TOUCH: The softest merino wool for baby's delicate skin, intentionally soft, it won't irritate or cause nasty rashes.
STRONGER THAN IT LOOKS: Natural and chemical free, which means it's durable giving long lasting comfort.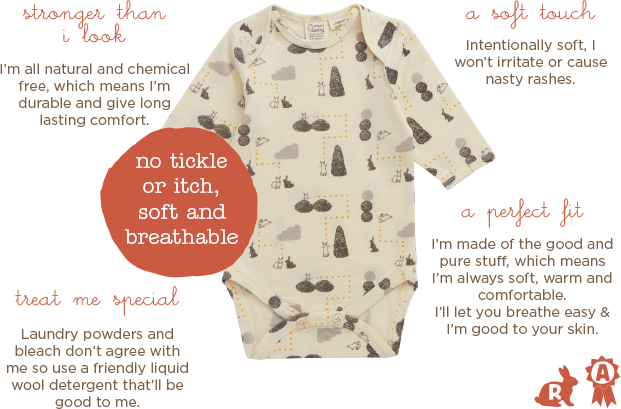 Organic merino wool really is the perfect fabric for babies! You need to take care of it so it can continue to care for your little one.
PLEASE TAKE CARE OF ME
Keep me looking good
If I get stubborn spots, use a stain soap on the area before washing.
Don't use bleach because that will make holes in me!
Laundry powders and bleach don't agree with me so use a friendly liquid wool detergent that'll be good to me.
A soft touch goes a long way
If I'm a knit, wash me gently by hand in lukewarm water so I don't shrink. If the water is too warm, I will felt and shrink.
Always check my tag, that will tell you if I am machine washable.
As a hand knit, I'm a little shy
After washing, squeeze me out gently, please don't wring or spin me in a machine!
Then flatten me out to dry in the shade.
Keep me in shape
Hanging or tumble-drying when I am a hand knit will stretch and pull me out of sorts.
Pilling
If I pill do not despair, this is just my short fibres migrating to the surface, once removed these will disappear.
NB x