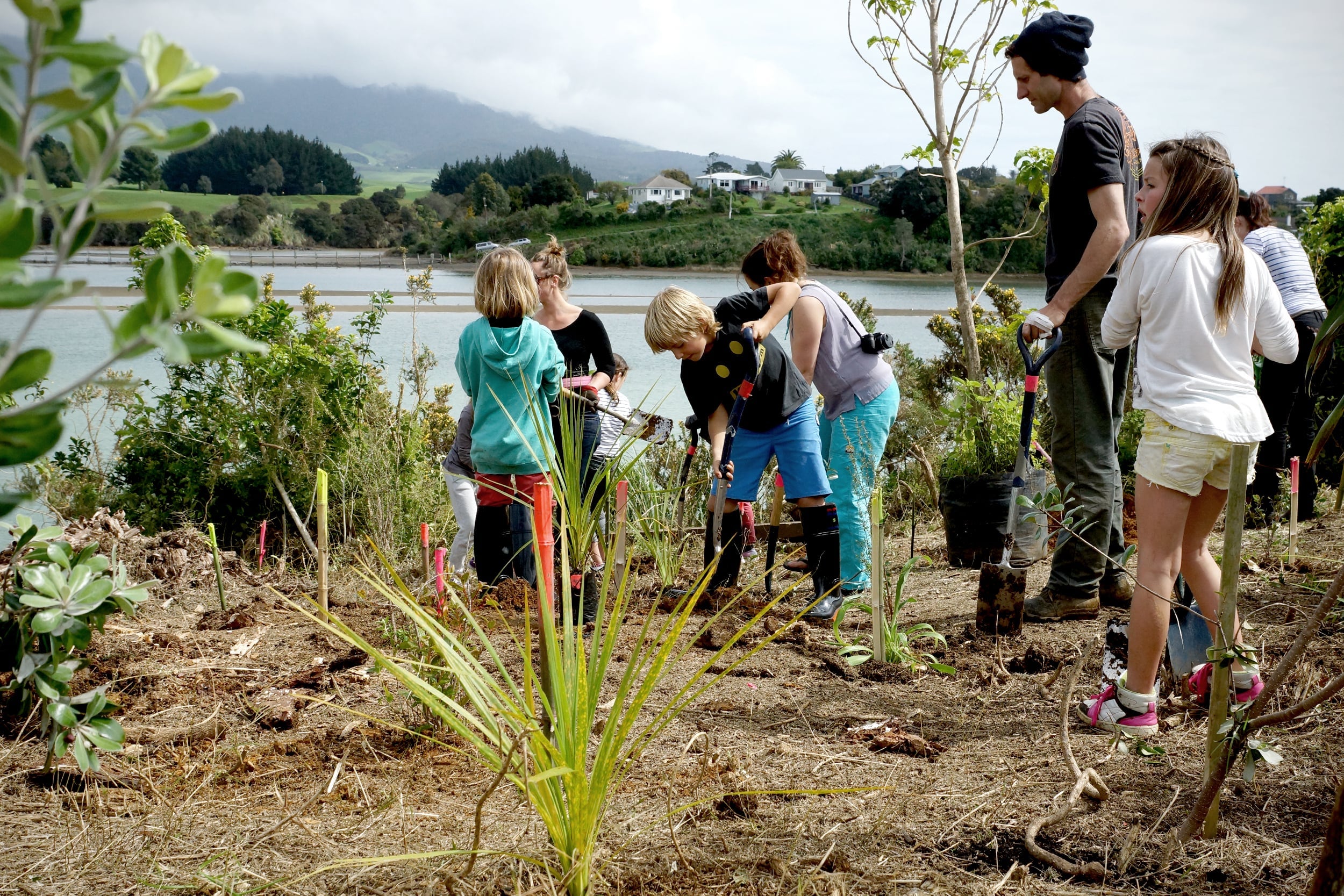 fatherhood: sam judd
In celebration of Plastic Free July, we chatted to Sam Judd from Sustainable Coastlines about his life as a father to Juliette, working and running his charity, and how he incorporates sustainability into his parenting.
A huge focus for me is my daughter Juliette...
she is seven years old. Much of the work that I do it focussed on providing a better future for her.
I started Sustainable Coastlines on a surfing trip in the Galapagos Islands in 2008. It stemmed from realising that plastic waste is ruining beautiful natural areas all over the world. Since then we have learned that plastic and other pollution getting into the food chain can seriously impact our families' health. This became a huge motivation for me when Juliette came along.

My favourite project I am currently working on involves scaling up riparian planting across Aotearoa/New Zealand. This is where native trees and shrubs are planted next to waterways on restoration projects. We are currently delivering this work to support local communities nationwide. This activity helps to reduce pollution - improving water quality, clean up the air by sequestering carbon, stabilise river banks which reduces erosion and also provides habitat for native species. The other awesome feature of this planting work is that people of all ages love to do it!
Balancing the workload between parenting time (which is essential in the short term) and my work (which is about providing a better future in the long term) is a constant challenge...
I imagine that this is the case for any parent, but these things can be combined to be an awesome result!
I have learned from Juliette that sometimes, having no filter is a great way to challenge the way that people behave. One day at the checkout counter, Juliette bluntly said to the lady in front of us: 'what are you doing with that plastic bag? - don't you know that turtles will think it is jellyfish, eat them and die?'. I am sure this had a huge impact on the lady - which I would have been too scared to do that! I was very proud to see her take a stand like that.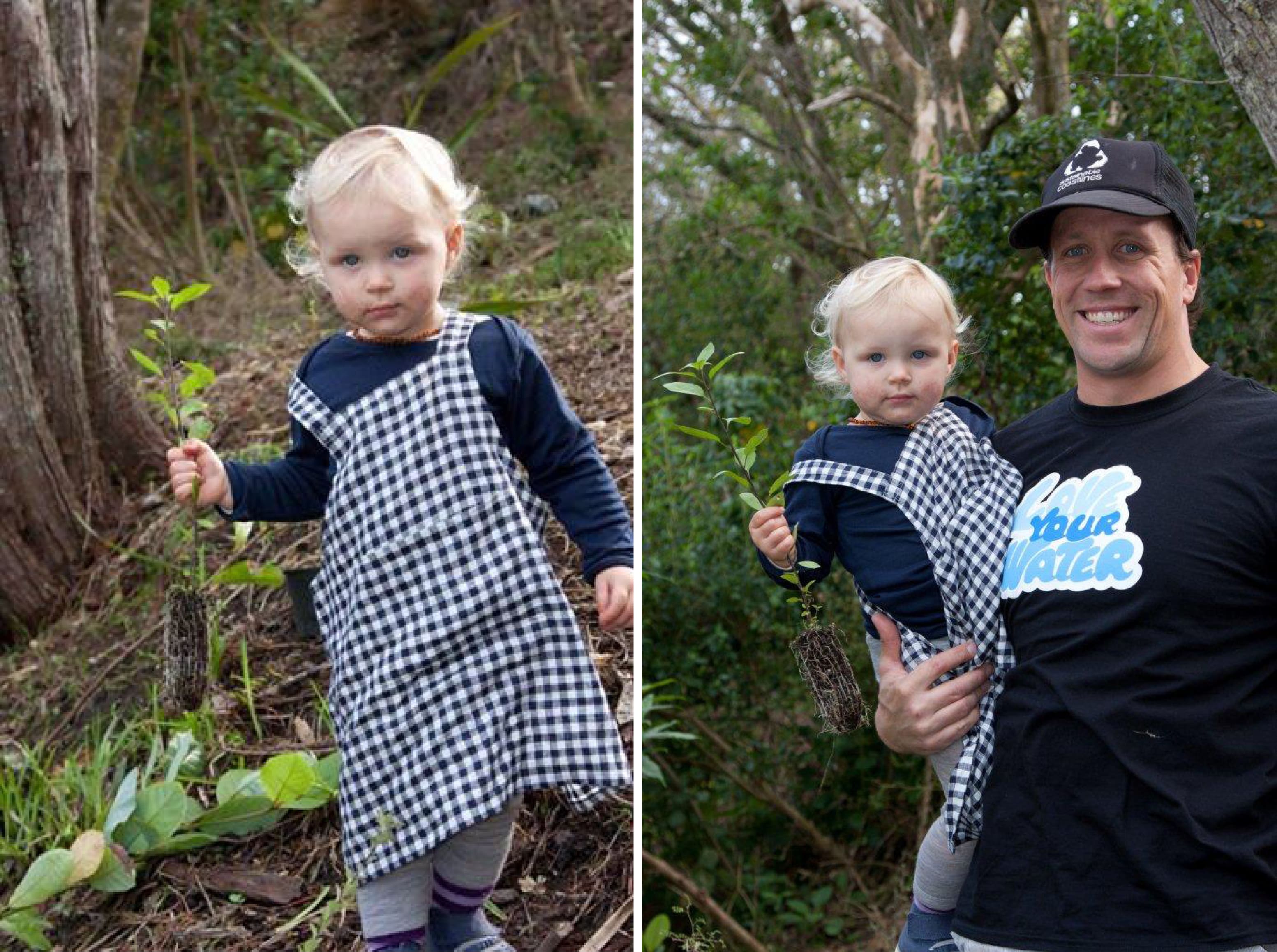 I teach Juliette about sustainability mostly through actions...
Juliette and I pick up rubbish from the street and beach all the time. As well as working with her school on educational presentations through the team at Sustainable Coastlines, I also take her along to planting events whenever the opportunity arises. It is especially awesome when I have had the chance to take Juliette back to planting sites to see how fast the forest has regenerated - the trees grow faster than kids do!
Most certainly my mother has impacted my journey of parenthood..
She has provided endless advice and mentorship along the journey. Her mother (my grandmother) also used to always tells us not to be 'litterbugs' when my brothers and I were young - this lasted with me forever. Also my father used to somehow make it fun when he took us to the dump - we always ended up with more salvaged 'treasure' than we took to throw away in the car! I also had the immense privilege of meeting Nelson Mandela when I was young - which has impacted me for life.
How can kids or families get involved in sustainable coastlines?
Come along to one of our events! We have lots of family groups that get involved - kids love planting trees and cleaning up the beach!
sustainablecoastlines.org/event
A day in the life:
I AM CURRENTLY READING… Ka Mate, Ka Ora! Te Spirit of Te Rauparaha by Heni Collins
I'M LISTENING TO… Shapeshifter - Bring Change
MY WEEKENDS START WITH… Surfing! Whenever possible
ONE ITEM I CAN'T LIVE WITHOUT IS… A hat - I am a bald dad so I need hats to stop my head from burning!
TOP THREE BABY ESSENTIALS?
1. Re-usable nappies - the shells from Nature Baby were critical for us. Combine this with chinese cotton squares and dry bags to transport!
2. Merino clothing. This doesn't let microplastics into the ocean when you wash them and keeps kids warm when we are out planting trees in Winter.
3. A backpack/frontpack or wrap. This piece of kit was critical when it came to getting Juliette into nature. It meant that I could still walk up a mountain or go to an event with baby in tow, safe and warm!
Thank you so much for sharing with us Sam. We hope you and your little ones can take part in Plastic Free July this month xx Nb