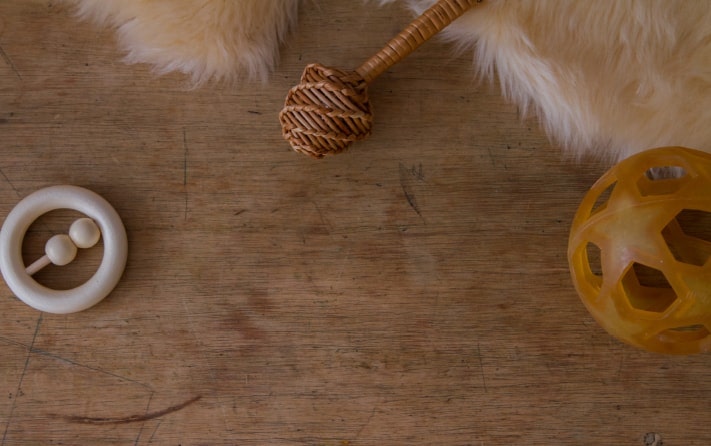 our favourite toys for baby
The Hevea Star ball is a non-toxic toy, suitable for both babies and children. It is soft, flexible and easy to grasp. Made from 100% natural rubber, the ball is free from BPA, PVC and phthalates. The malleable rubber is soft and bounce-able and makes the ball an ideal toy for babies during their early development stages, either for indoor play or to chew on!
Having a favourite companion from an early age will be lovely for your little one. Our cuddle bunnies are designed to create comfort and calm, and can act as a sleep aid for when baby is learning to self-settle. They are perfect for little hands, with knotted feet making it easy to grasp and are also great for chewing on when baby is teething. They feature a hand embroidered face detailing which makes each toy a little different and very special. Made from snuggly organic jersey cotton and filled with organic cotton wadding. Perfect from newborn onwards.
A natural wooden baby gym is a must have for when baby is having some floor play time. A simple design that excites the senses and is great for keeping baby stimulated and entertained. It helps with hand-eye coordination as baby learns to reach out and grasp the fun toys. The feeling and sound of the wooden pieces clunking together and the chimes of the bells delights babies and provide endless fascination. Pop baby on one of our quilted playmats or sheepskins underneath and watch their faces become entranced as they learn to follow and reach out to the toys! The play gym finished with beeswax and non-toxic environmentally friendly paints, designed for 0+.
We hope you and your little ones have lots of fun with these toys, and love them as much as we do! xx Nb
Healthy and happy babies are so important to us and so is what we give to them for play, teething and engagement. We focus on the materials our toys are made of, ensuring they are natural and non-toxic, and also value simple or traditional toys that inspire the imagination. We thought we'd share some of our favourite toys for baby which have also been tried, tested and much-loved by mums and little ones around the world.
The willow rattle is one of our best selling gifts for babies. Made solely from fine willow shoots, this rattle is safe, nontoxic and light for little hands to hold on to. A bell inside the rattle makes a lovely tinkering sound too! A simple toy that baby will love, handmade in New Zealand.
2. Natural wooden teething ring
Around 2-3 months of age, babies start to reach out and use their grasp reflex, they will also start bringing anything in their reach to their mouths as their little teeth may be starting to move and grow. One of our favourite toys for this age and stage is the simple natural wooden teething ring. It is the perfect size for little hands to grasp onto and makes a soft rattle sound which is great for development. Made of locally grown maple which is non-splintering, strong & durable and is made in New Zealand.