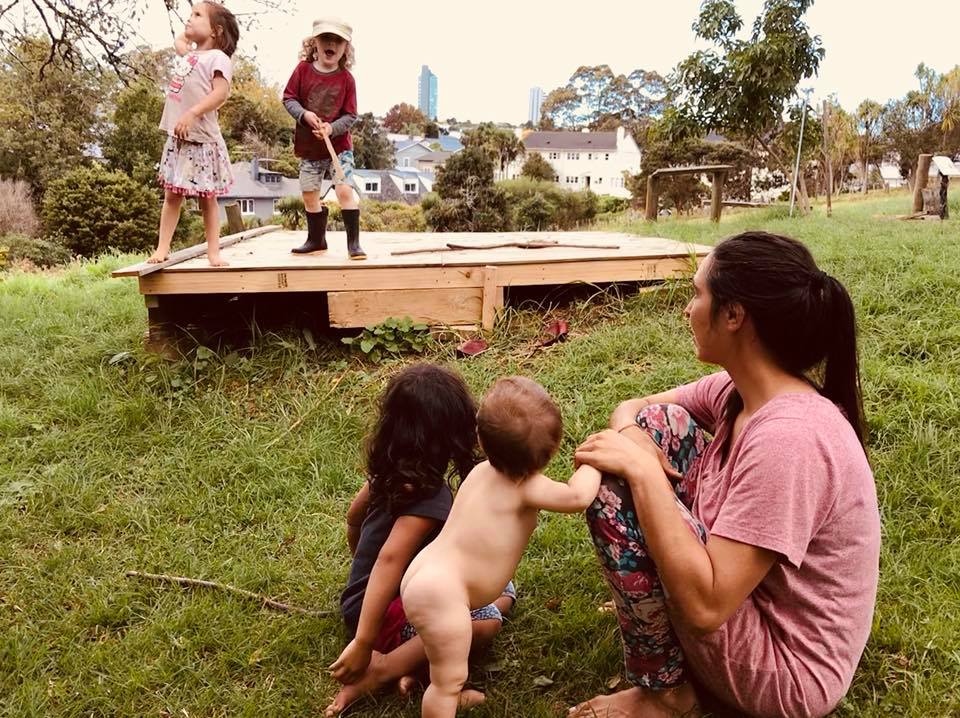 play group at kelmarna gardens
play group at kelmarna
Down at our local community garden, Kelmarna, a group of mums and little ones gather once a week to play, and help out. We spoke to a few of the mums who started the group and attend, about the importance of the garden to their group, and how wonderful a community garden is.
Rachel:
This group started out with the idea of having an all ages playgroup that has a focus on being outside. There were a number of people who were in a similar situation to myself, with kids at home, who wanted support of a like-minded community of caregivers within a general philosophy of being respectful of each other and our environment.
The idea was that eventually we would be able to create a community that knew each other enough that our children could play with each other without too much close supervision, and so that if someone needed a couple of hours to go do something else, then they could leave their children at the gardens to be cared for. In this way it is a bit like Playcentre, but a lot less structured, and set in a garden!
We get a range of families attending, with kids ranging from 0-10 years old currently, and there are about six or seven regular families who come. It really feels like an extended whanau in this way, with older kids and younger kids running around together, and being looked out for by both parents and garden workers. We are keen to have more families join in the fun though, the more the better!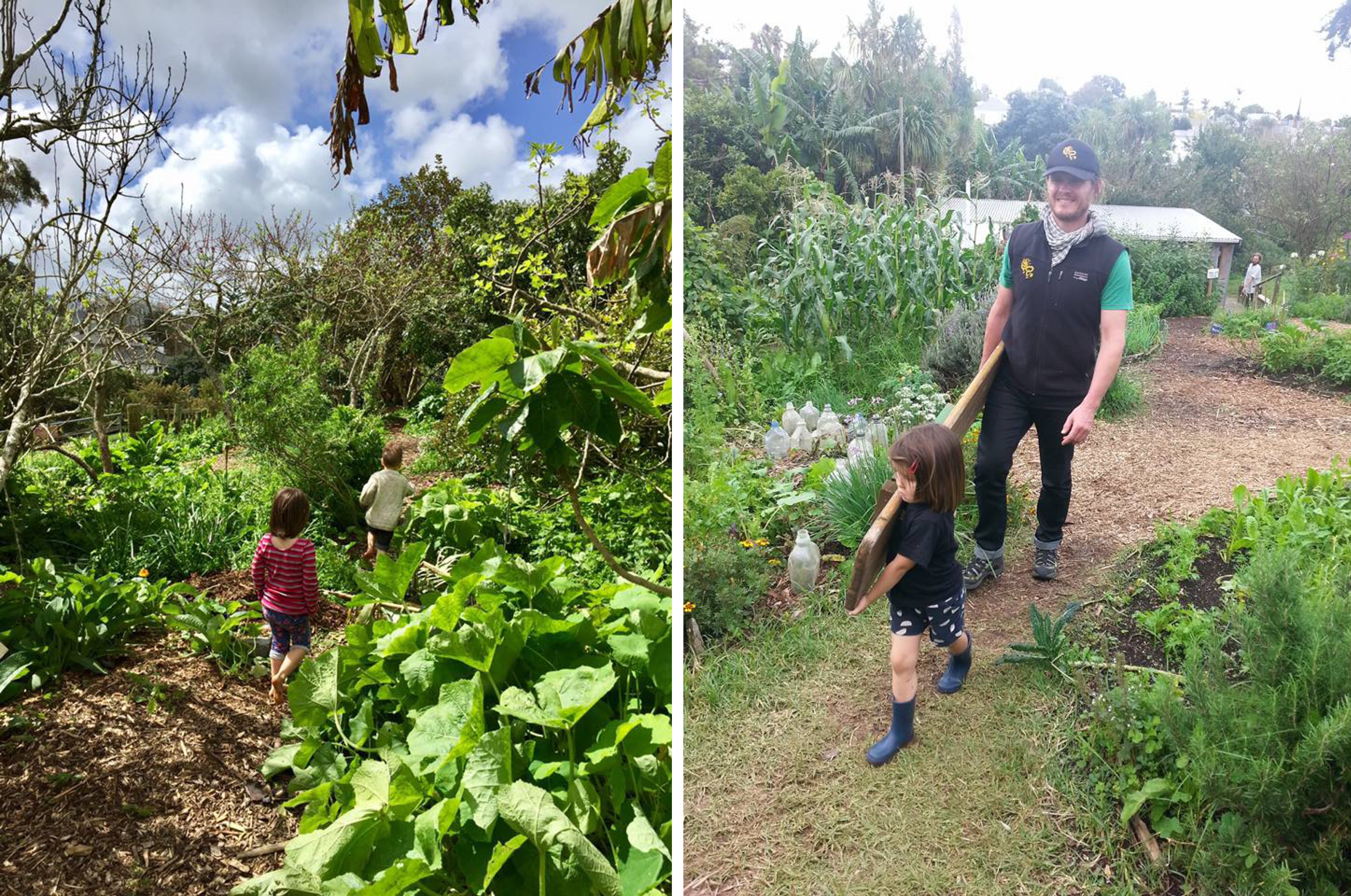 Little ones love to get involved and help out around the garden.
We chose Kelmarna gardens because...
The idea of being at an outdoor space was based on the idea that most of us aren't outside enough, moving our bodies, getting in touch with the elements and being grounded in the earth. These experiences are especially important for kids to have for healthy physical development, as well as having good understanding and relationships to the ecologies we live in.

For many, being in the gardens is medicine, it helps people to feel like they're a part of a larger community that really cares, and is doing something tangible to create healthy environments for people, plants and animals to thrive in.
It is also great for the fact that it has a kitchen and the workers and staff share a meal each day, which we join in on. They use mostly food that comes from the garden itself, and so the link between where and how food is produced, and how it ends up on your plate is really obvious. The quality of their produce is amazing as well, and we get to see the difference between conventional food, and food grown with Permaculture principles. For many of the families who come, eating organic food is a very important part of their lifestyles.
Lastly, it's central for the families who come along. People come from around Auckland, so it's a good location for anyone to be able to access.
Benefits of community gardens like Kelmarna...
Rachel: These are places that feed communities not only through produce but also through philosophies of sharing and reciprocity. You give time and love, the gardens give food. The plants produce pollen, the bees make honey. Animals provide fertiliser and the garden grows more food! It's simple, but satisfying to witness the cycles and exchanges that take place through the seasons. People who may not know each other outside of the gardens can spend time together doing something that is tangible in its positive effects, so forming new friendships.

Kelly: Using healthy methods. It's a positive environment and the shop is a great source of food for weekly shopping. It's such a brilliant resource!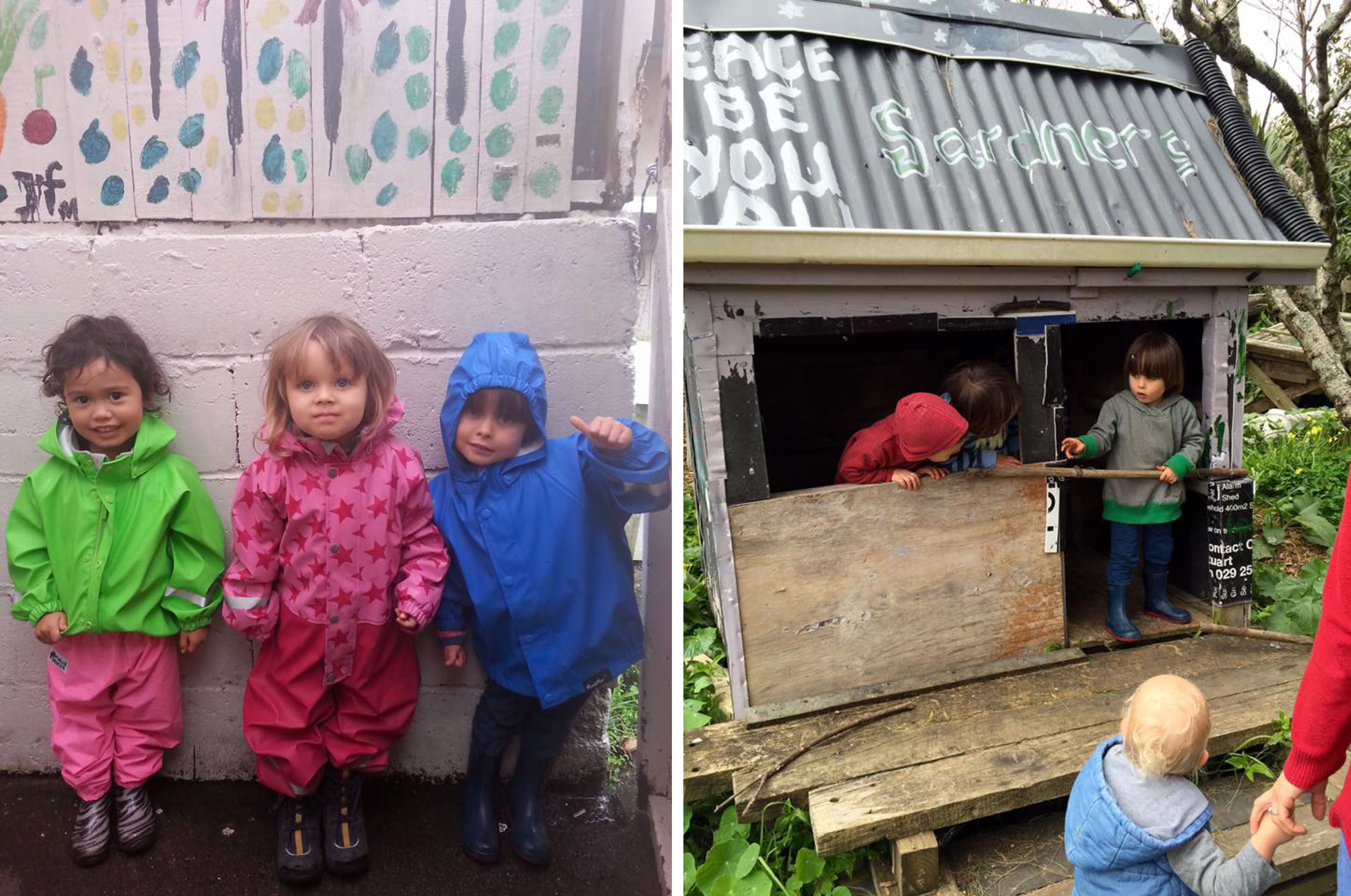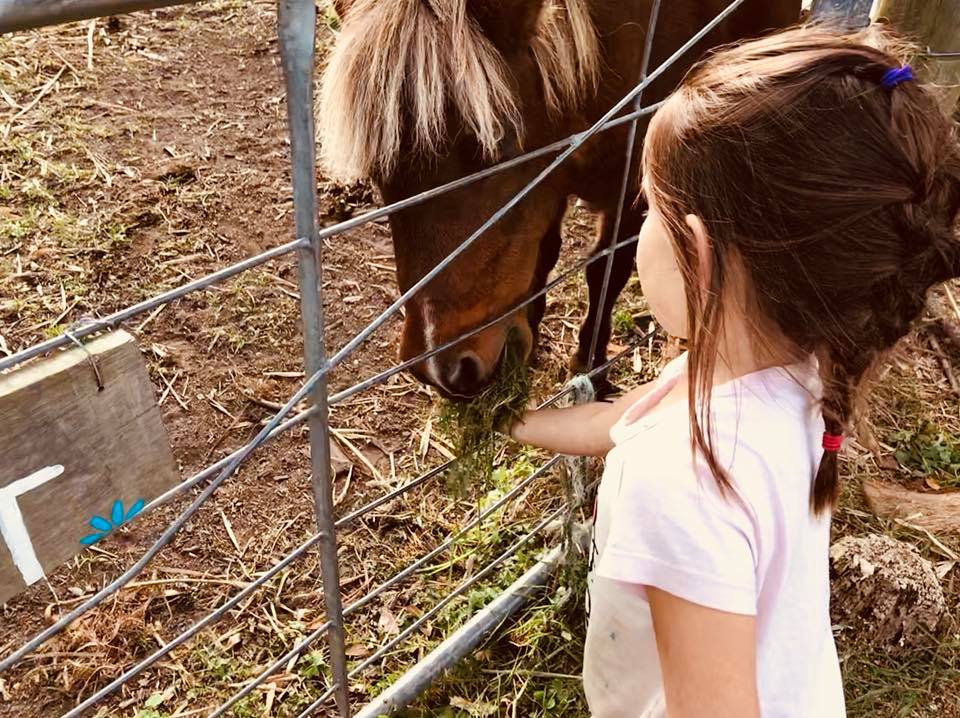 Feeding Jaffa, Kelmarna's very own pony.
Getting little ones involved in the garden...
Rachel: It's really not hard, they're so happy to be doing it most of the time. We try to provide as many opportunities as possible for them to be a part of all the processes of making the garden grow, asking them what they'd like to plant, getting them to do the seeding, planting, watering, mulching, weeding. We've got a 'dirt pit' right next to our plot, and the food forest, where they often play is also close by, so having them playing near where we are working is an easy way for them to see what we are doing and want to join in.
Kelly: Watering, digging, using tools, rigging hammocks, feeding the chickens, feeding Jaffa-the pony, discussing 'how we don't pick the flowers' because the bee's need them, and 'we keep to the tracks' otherwise we'll trample someones garden and hard mahi-learning about respect. Sometimes a tree stump or log in a paddock has become a pirate ship, or a big bucket of water has become a cauldron full of magic potion.
Kirsty: Our guys love all that and particularly eating things from our garden, digging the kumara, worm and snail friends, and they really really enjoy and benefit from their relationships with other mums and garden staff (how patient are they haha)
Words of advice to other mums or groups...
Find the things that you can all do together that satisfy everyone. Another inspirational Mama, Lucy Aitken-Smith of Lulastic and the Hippyshake talks about Sites of Mutual Enjoyment.
Get appropriate all weather gear.
Don't worry if your kid/s don't enjoy a 'new' space at first. We've had lots of families come once, then haven't come again because their child hasn't been able to 'get into' play. Kids are often very reluctant to just jump in and play in new places with new kids/people. When parents have persevered and were really present, supportive, and open to playing alongside their kids, they find their groove after a few times of coming.
Find any garden to hang out in... do garden swaps!
Come and join us at Kelmarna!
Thank you so much Rachel, Kelly, Shay and Kirsty for sharing with us all about your wonderful group! We hope this gives you a few ideas for your own playgroups or little ones in the garden! If you would like to attend this group, please visit their facebook page here. xx Nb
P.S. 10% of all Little Gardener purchases in NZ will go to Kelmarna Community Garden to support their work and this wonderful place for us to share!