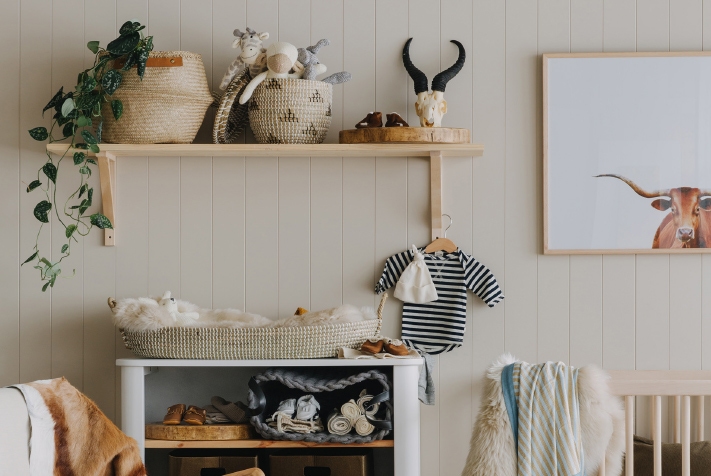 nursery set up with alex walls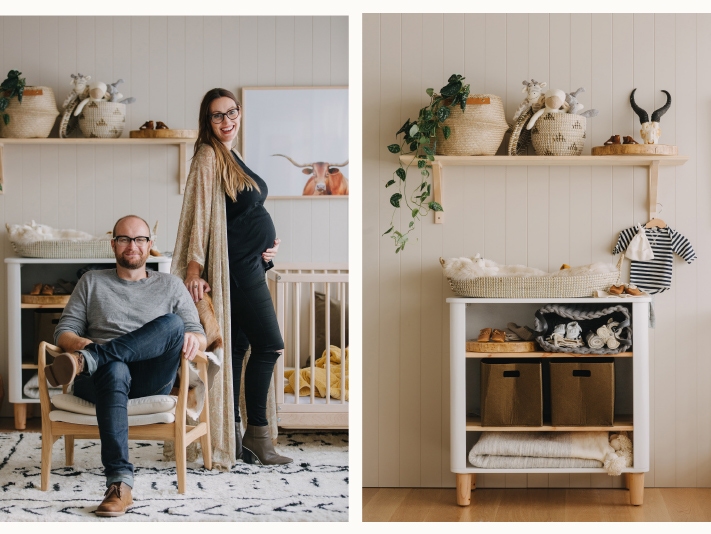 nursery set up with Alex Walls
The lovely Alex from Alex and Corban Home talks to us about the inspiration and process behind designing her little boy Austen's beautiful Nursery. She also shares her nursery and bedding essentials and DIY tips for new parents planning their little ones nursery space.
I am a mother first….
And interior stylist and business owner with every sleeping moment of my little munchkin Austen. Austen is 6 months old and my best little buddy.
After we had our 20 week scan…
We found out the sex of our baby and I started to plan his room. I couldn't keep it a surprise! I like to plan!
I wanted a calm and relaxed colour palette for his room as a baby…
The neutral colour palette works for later on in his life when he starts developing his personality and understanding what he loves, so we can easily add colours and character with toys, artwork etc, without having to do a complete re-style.
It was also really important for me to have a changing table high enough so that I could change him without having to bend over or do it on the floor, while having easy access to the essentials.
I liked the idea of having a bit of an animal theme…
But not over the top animal. I found this beautiful Buffalo Print and am naturally drawn to the earthy colours you can draw out of it. Animal hides and leather accents added earthy organic textures.
I always start off with one piece of inspiration…
And then draw out colours, tones and textures that work with that one piece, this helps to create a coherent and well balanced room. In this case I started with the Buffalo Art Print, pulling neutral colours out to build a soft and natural themed room.
The cot was a definite item I wanted to invest in…
I wanted to get a cot that converted into a bed, and in a plain colour that meant I could re-use for a second child.
And black out curtains. These have been a great investment to ensure that we can make the bedroom nice and dark for daytime sleeps.
Do up your own set of drawers…
You could head down to local opshops or trade me to find a standard sets of drawers to sand and re-paint so it works with your theme. It's amazing what a fresh layer of paint and maybe new knobs or handles can do to an old piece of furniture.
A feeding chair, ottoman and feeding pillow...
Are nursery furniture essentials, you want somewhere to be able to sit and relax while feeding the babes.
I found that for me I relaxed when I propped Austen on a pillow so he was sitting up a bit higher (so I didn't have to bend over him), and then for me to have my feet up on an ottoman or leg rest. I had a pillow that had a few pillowcases that I would alternate between through the wash cycle, and then for my feet I used our Moroccan Leather Pouffes from our store which are nice looking and I will continue using in my lounge afterward.
Cotton stretch wraps were the best way to swaddle my little wriggly Austen…
With stretch cotton it allowed him to move his arms and legs about, but I was able to tie it tight enough that he wouldn't escape. Great success. Other bedding essentials include a wedge for him to sleep on his side (I was able to have peace of mind that he wouldn't be rolling over when he was really small) and a nice soft toy for him to snuggle up to… which he now can't sleep without.
Whatever you do, don't plan permanent…
And hard to change furniture and colours in the room just yet, that will come later. When you are designing your little one's nursery, my first suggestion is to think about the fact that in a couple of years time they are going to have their own little personalities and want to have their favourite colours, toys and things that might not fit within your original plan.
Consider storage!
Where you can hide the nappies and wipes without leaving the nursery looking like the baby aisle at the supermarket. Plastic nappy baby packaging is not aesthetically pleasing!
Thank you Alex, we loved hearing your design process, inspiration and your favouirte items for Austens nursery! It's such a beautiful and calm space xx nb