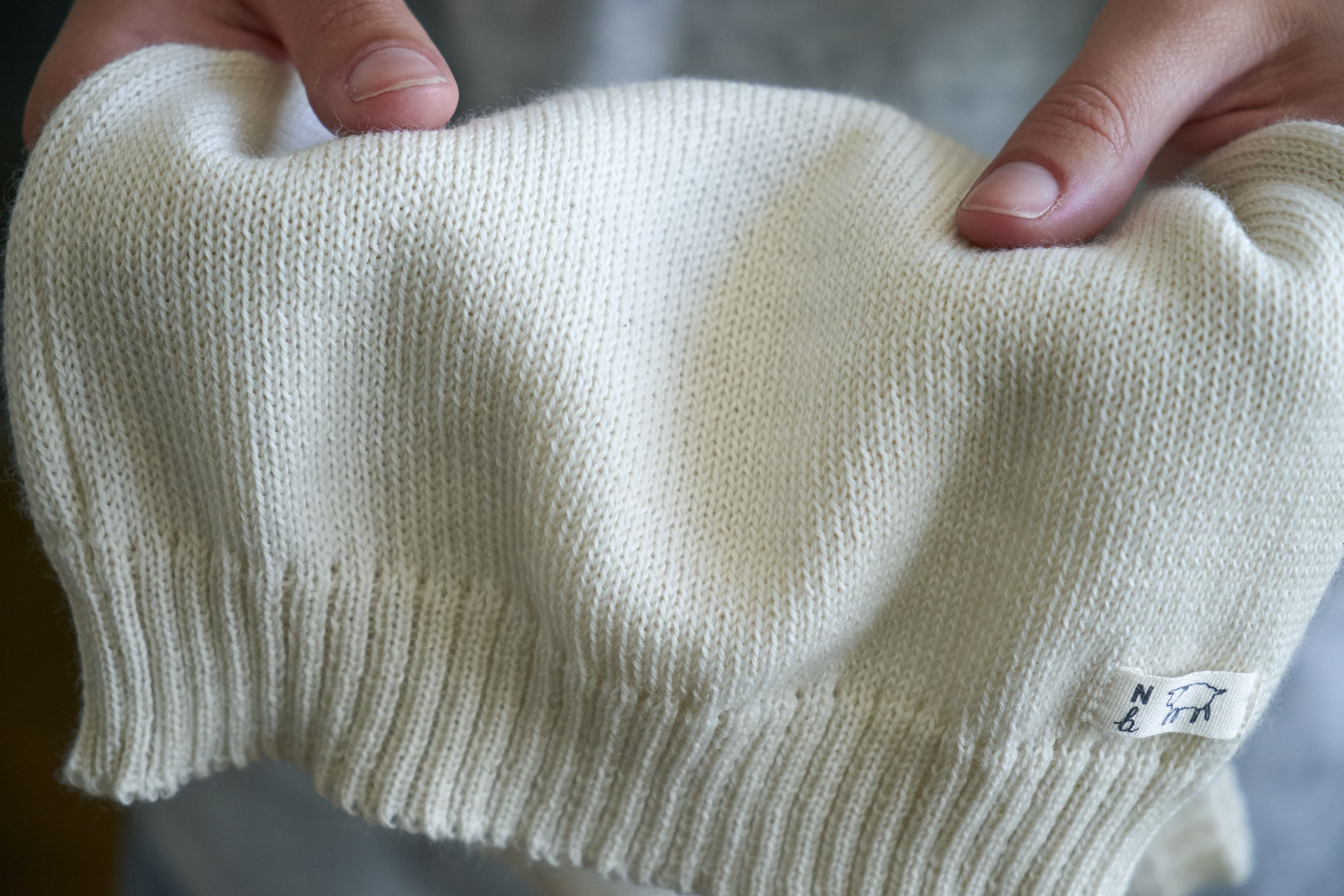 how to care for merino
how to care for merino wool
Pure merino wool is a wonderful fabric for babies. It insulates (even when wet), absorbs and breathes, keeping little one warm and snug without overheating. We use only the finest merino fibres, making the clothing soft, gentle and not itchy or scratchy against the skin. Our merino is of the highest quality, and is designed to last and be worn and worn, as long as it is looked after. The beauty of wool is that it doesn't require frequent laundering, in fact it keeps its best when not washed at all, but we understand that having little ones there are often spills and stains, so we share two guides below on looking after your merino wool.
Merino essentials
Our pure merino wool is made into a range of essentials, these are everyday basics to dress your little one in. Bodysuits, tops, pants and accessories too, they are beautifully soft and gentle making them a great first layer against baby's skin.
The essentials can be washed in the washing machine, though always use an eco-friendly liquid wool detergent. We recommend Earthwise, or Ecostore. If your machine has a wool cycle, we recommend using that, otherwise try delicates or a normal wash. The liquid wool detergent is really important, as powders may thin out the fabric and over time this could lead to holes in the fabric. We recommend washing all wool with a liquid wool detergent, even adult's, so you can just pop one wash on for the whole family.
Try and line dry where you can, otherwise these can be tumble dried on low.
As our garments and not treated with any nasty chemicals, if you do wash with any bleach or fabric softeners it is likely they will cause our colours to fade or whiten. For removing stains, we recommend spot cleaning with a natural stain remover, washing the garment and then hanging in the sunlight to dry.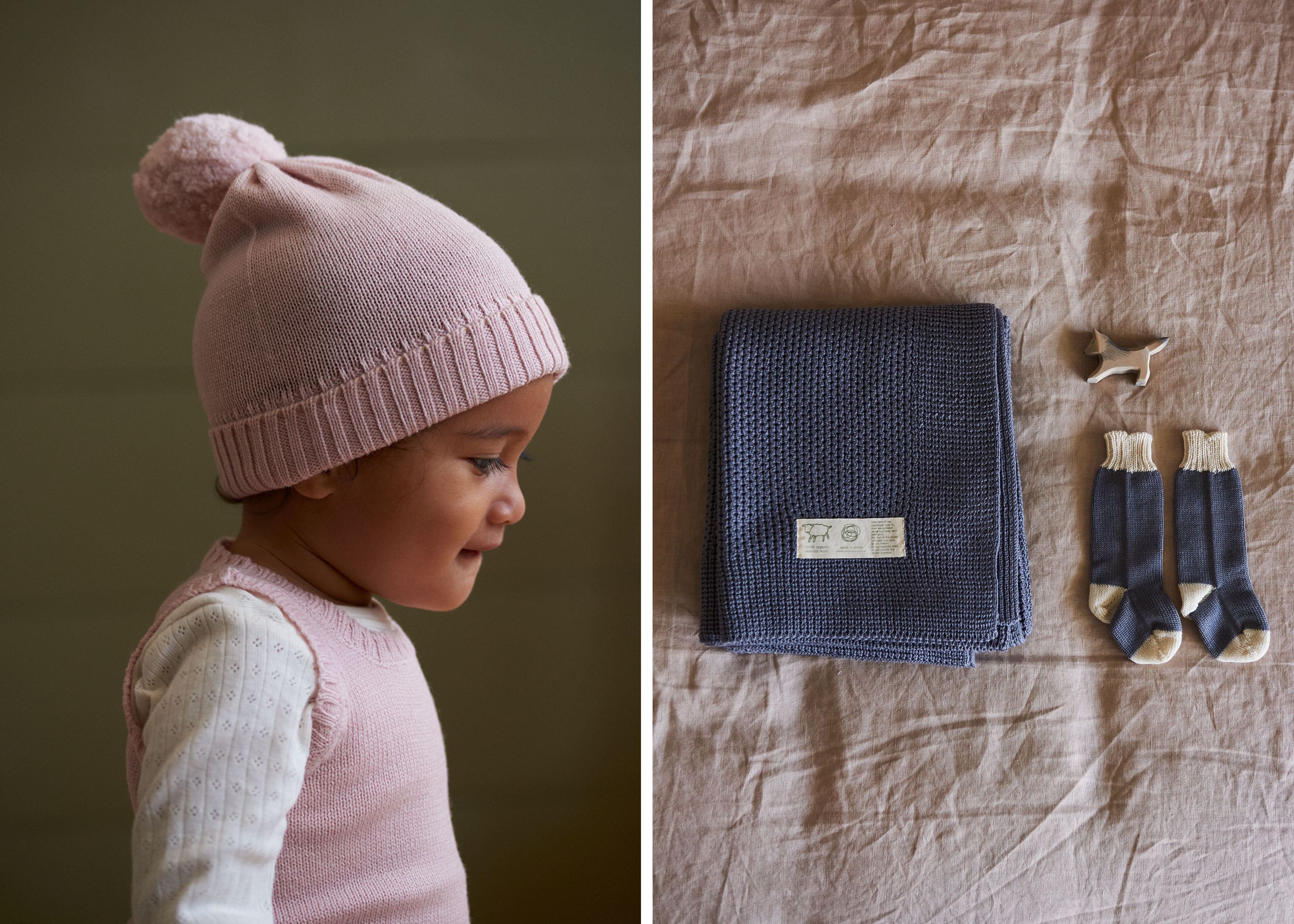 Merino knits
Knitted with love, our organic merino handknits make beautiful warm layers. Available in cardigans, kimono jackets, beanies, socks and blankets too. To keep your knits in their best shape, we recommend minimal washing, and airing out or spot treating stains as needed. However if you do need to wash your garment, here are some tips:
As these are knitted from pure organic merino wool and not mixed with any synthetics or treated with any chemicals/ anti-shrinking or fixing agents, these are delicate and must be handwashed only – just like what your Nan would've knitted. Gently massage your garment in lukewarm water with a liquid wool detergent. Remove the excess water by rolling garment in a towel and gently squeezing , then lay flat in the shade to dry. Do not wring or tumble dry, as doing so will make it difficult for the garment to stay in it's perfect shape.
As our wool has not been treated with a synthetic coating, it may pill. If pilling occurs, do not despair, this is a natural process where friction causes the short fibres to migrate to the surface. Once removed these will disappear. You can remove pilling by hand, with a lint comb or an electric lint shaver. Be careful with electric lint shavers as these can catch the knit and cause holes. Hand removing (although not as quick) is the gentlest on your garment.
Merino wool is a little more delicate than cotton; it is surprisingly easy to care for but just needs a bit of love to ensure it stays in the best condition, as snuggly as when first purchased. All our garments come with washing instructions for easy care, so please check the tag.
We hope this wee guide helps you to look after your lovely snug layers so little one can wear them again and again. For further assistance, don't hesitate to contact us on hello@naturebaby.com xxx