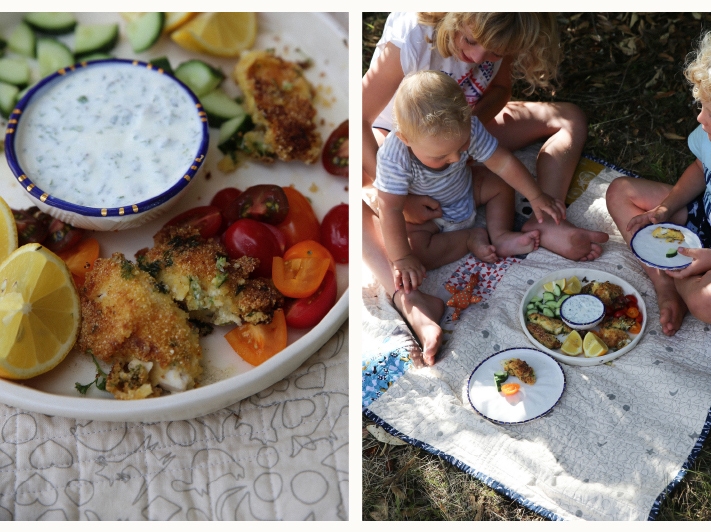 recipe: polenta and almond crusted fish fingers
petite kitchen: polenta and almond crusted fish fingers
My children just love these quinoa and almond coated fish fingers. It's a simple recipe with only a few basic ingredients, although a tasty combination, I have to admit. You could even make double the recipe, popping a batch in the freezer for a later date.
Ingredients
500 g white fish, cut in to fingers
a handful of parsley, finely chopped
¾ cup almond meal
½ cup polenta
1 tsp sea salt
2 free-range eggs
For the yoghurt sauce:
1 cup thick natural yoghurt
a large handful of fresh parsley, chives and mint, finely sliced
To make
In a small bowl, combine the yoghurt and herbs, and set aside.
In a large, shallow bowl, combine the parsley, almond meal, polenta and sea salt.
In a separate bowl, add the eggs, and beat lightly.
Dip each piece of fish into the egg, then coat in the almond meal mixture.
Heat a pan, and add a tablespoon or two of butter. Grill the fish for 2–3 minutes on each side, or until golden, and cooked through.
Serve warm, with the herbed yoghurt sauce for dipping.
Serves 2 as a main, of 4 as a snack. Enjoy! x