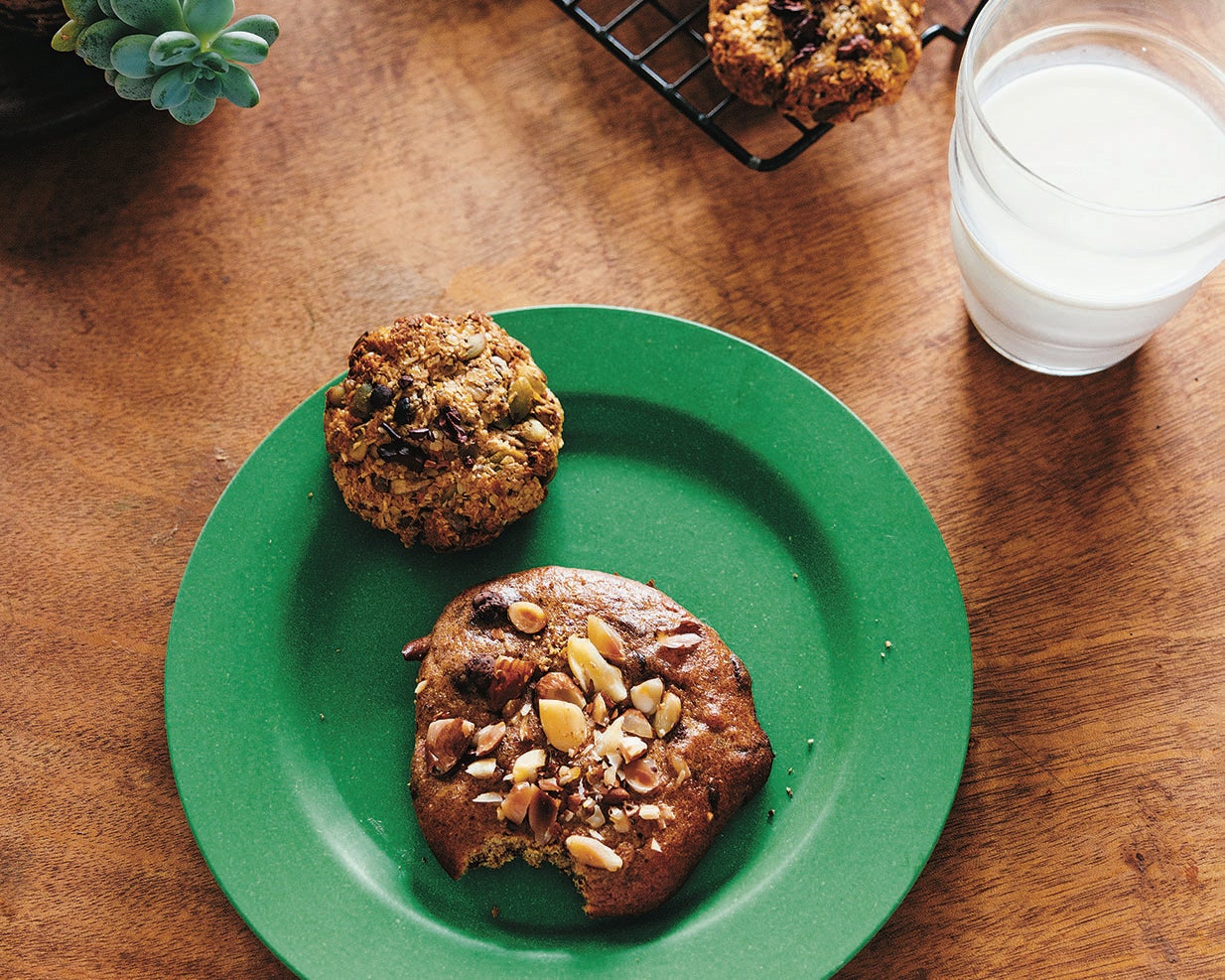 recipe: almond, chocolate + chickpea cookies
Our friends at Lunch Lady have created a delcious and (pretty) healthy idea for breakfast- cookies! Also great for little lunch boxes, they are the perfect treat to have on the go. This recipe, as well as other yummy breakfast cookies is available in Lunch Lady's issue no.14, shop the magazines here.
Image taken by Jacinta Moore
Makes 12–14
60g / 2.1oz coconut oil, melted and cooled
1 ripe banana
240g / 8.5oz nut butter
2 tbsp maple syrup
1 large free-range egg
2 tsp vanilla paste
50g / 1.8oz chickpea flour
1 tsp baking powder
1 tsp ground cinnamon
pinch of fine salt
100g / 3.52oz dark chocolate (70% or 85% cacao solids), roughly chopped
1/2 cup raw almonds, roughly chopped, optional
In a small saucepan, melt the coconut oil until it becomes a liquid. Set aside to cool. Preheat your oven to 180°C / 350°F / Gas Mark 4. Line two baking trays with baking paper. In a medium-sized bowl, mash the banana with a fork. Whisk in the nut butter, maple syrup, egg and vanilla paste until smooth. Stir through the chickpea flour, baking powder, cinnamon and salt until well combined. Add the coconut oil and mix until smooth. Stir through the chopped dark chocolate until well mixed. Use a tablespoon to drop a spoonful of mixture onto the lined baking trays. Try to keep the scoops vaguely round and allow plenty of room between the cookies for them to grow while they bake. Repeat with the remaining mixture. It should make around 12–14 cookies in all. Sprinkle a few chopped almonds on top of each cookie, if you're using them. Bake in the oven for around 12–16 minutes, rotating the trays if necessary, or until the cookies are golden. The cookies will firm up as they cool, but you want to bake the cookies until the underside of the cookie also looks golden. Transfer the cookies to a wire rack to cool.
Thanks so much for sharing this delicous recipe with us Lunch Lady! We can't wait to try this for breakfast- yummy! xx Nb