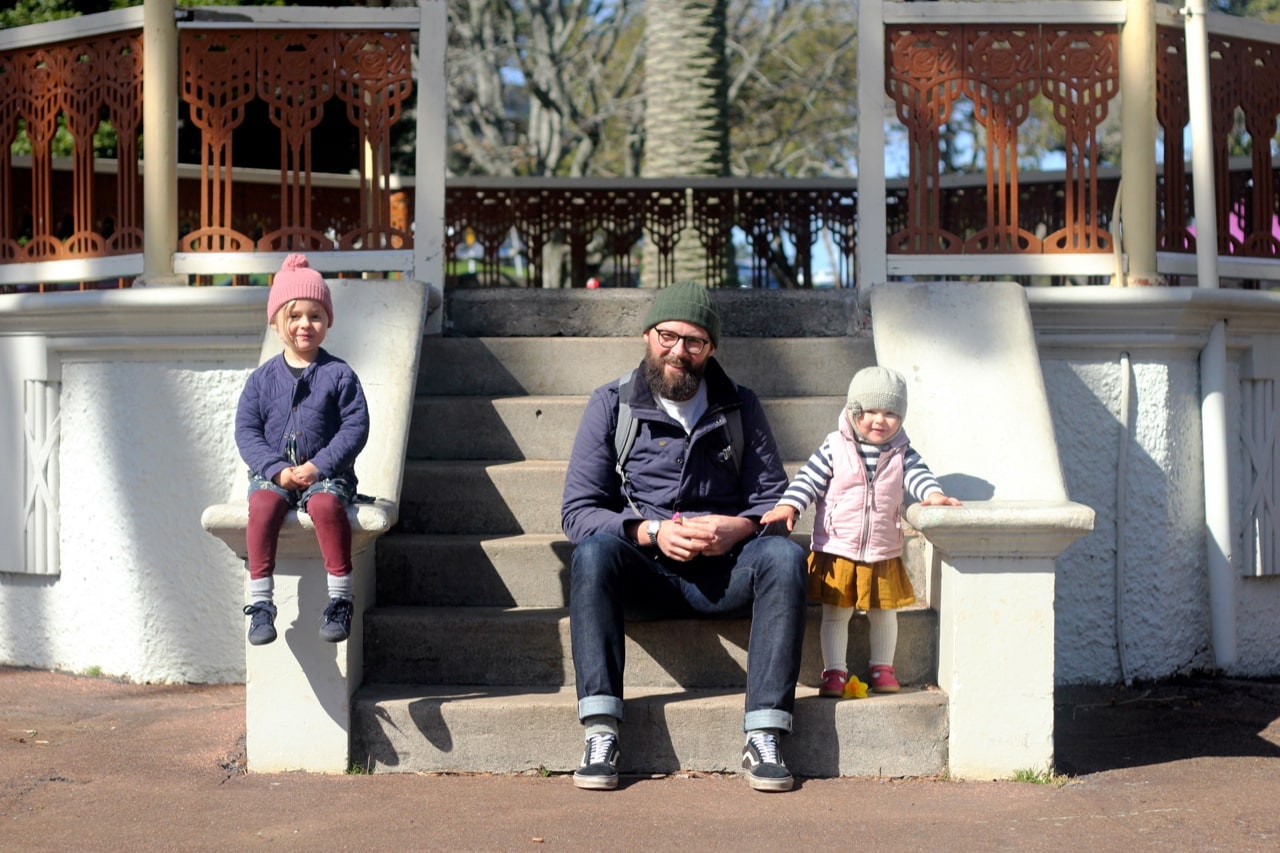 fatherhood: tim grocott
In celebration of Father's Day this Sunday, we chatted to Tim Grocott of TAUS Ceramic, about his journey as a Dad to two girls and his life in Auckland City.
My wife, Emma and I have two girls...
Nina, 4 years and Frida, 2 years. For my day job, I'm a television editor and by evening I'm a ceramicist, working under the name TAUS Ceramic. Emma and I are lucky enough to own our own home in Te Atatu Peninsula. One of the many great things about living here is that it's well serviced by cycle infrastructure. I can bike the kids to kindy, the supermarket and the park. I can also bike to work in town which is so great for fitness and my mental health.
Cycling around with kids is such a joy...
I have a cargo bike which has seats for the girls and they both love it. Nina and I have had a couple of day-long rides in and around the city and soon Frida will be old enough to join us. Nina especially loves the rainbow path at the end of the North-Western motorway. We take our bluetooth speaker on the journey and she sings at the top of her lungs.
With pottery, I love that I can work from home...
and the girls get to see and learn about the processes of what I make. I love it when Nina picks up a cup and says 'Daddy, is this from one of your moulds?'. Hopefully one day they'll be able to help out in the studio, but for now it's just nice that they get to have an understanding of what I do.
It is difficult balancing being a working Dad...
especially when I have a lot of editing work on. It means I only really see them for breakfast and dinner. It's important that I make the most of the little face to face time I have with them, and then I usually do my pottery work in the evenings once they're asleep.
The best piece of wisdom I can give about being a Dad is...
Get yourself onto their wavelength which is much easier said than done at times! Getting the family ready to get out the door in the mornings can be one of the most challenging times. You can't get kids to go faster by stressing and telling them to hurry up, in fact that often ends in tears and is completely counter-productive. I can't tell you how to do it, but you've got to try and work at their pace to get everyone pointed in the right direction and out the door. Or just get out of bed earlier!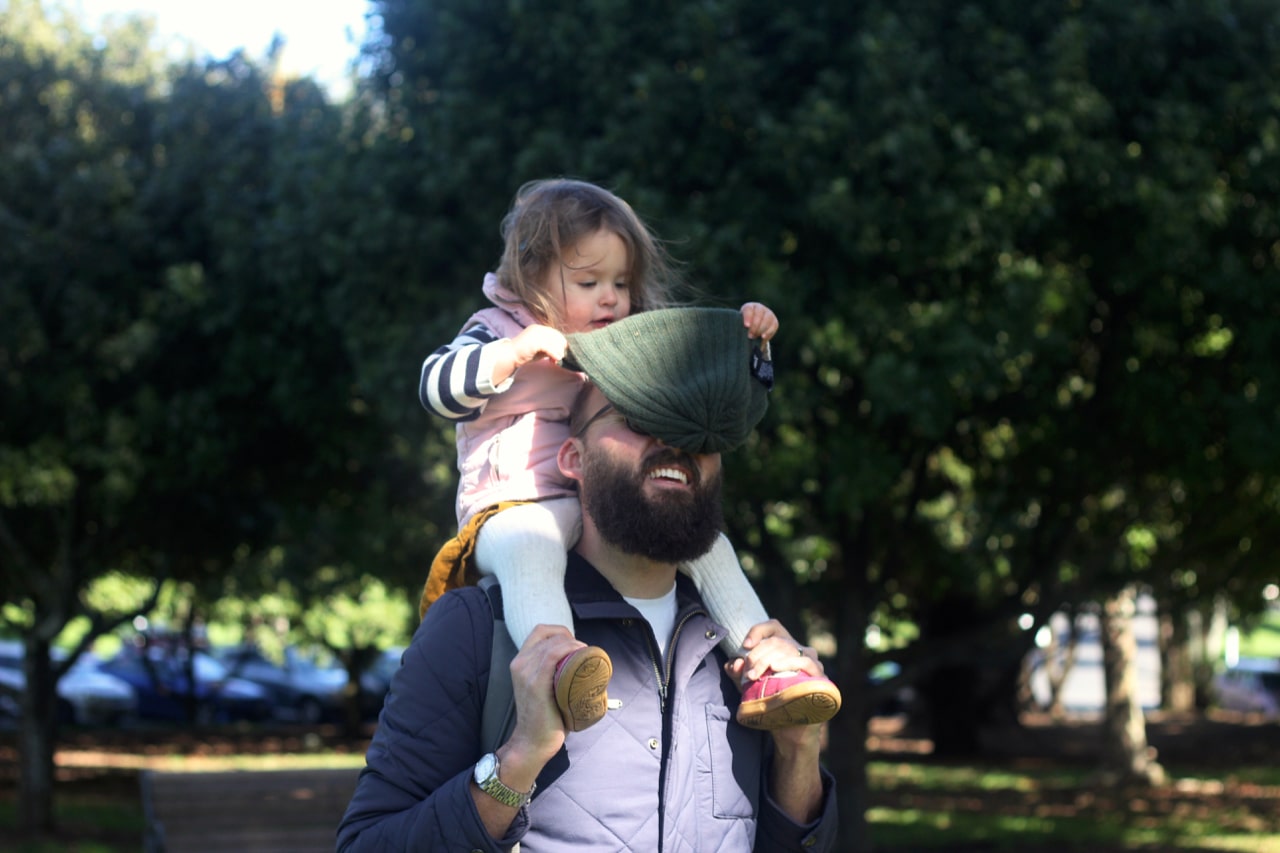 I remember when Emma was pregnant with Nina...
I was cycling to work with a friend who had a two year old at the time. I was a bit nervous about the prospect of being a dad and my friend somehow managed to convey just how special and unique and crazy it really was to have kids. I felt so much better after that conversation, I've never forgotten it.
Some of the most special times I've had with my dad always revolved around making things...
When I was young he helped me make model planes and boats, we made a model albatross to go along with one of my school speeches and this collaboration continues to this day. Our projects are getting more and more complex with dad recently helping me with the renovation of our house, installing windows and moving walls. He always makes time to lend a hand, even if it's something neither of us have done before.
The combination of the creative and the technical is what I love about making things, and I owe that to the time my dad spent with me as a kid. That's something I hope to teach my kids as they grow.
A day in the life
I LIVE… in Auckland
I AM CURRENTLY READING… On Craftsmanship: Towards a New Bauhaus - Christopher Frayling
I'M LISTENING TO… Jorja Smith X Preditah - On My Mind
MY WEEKENDS START WITH…Ballet class at 9am
ONE ITEM I CAN'T LIVE WITHOUT IS…Music
HOW DO YOU PLAN TO SPEND FATHER'S DAY…Probably coffee followed by whatever the kids want to do.
Thank you so much for sharing with us Tim! We wish you and all the dads a very Happy Father's Day! xx Nb