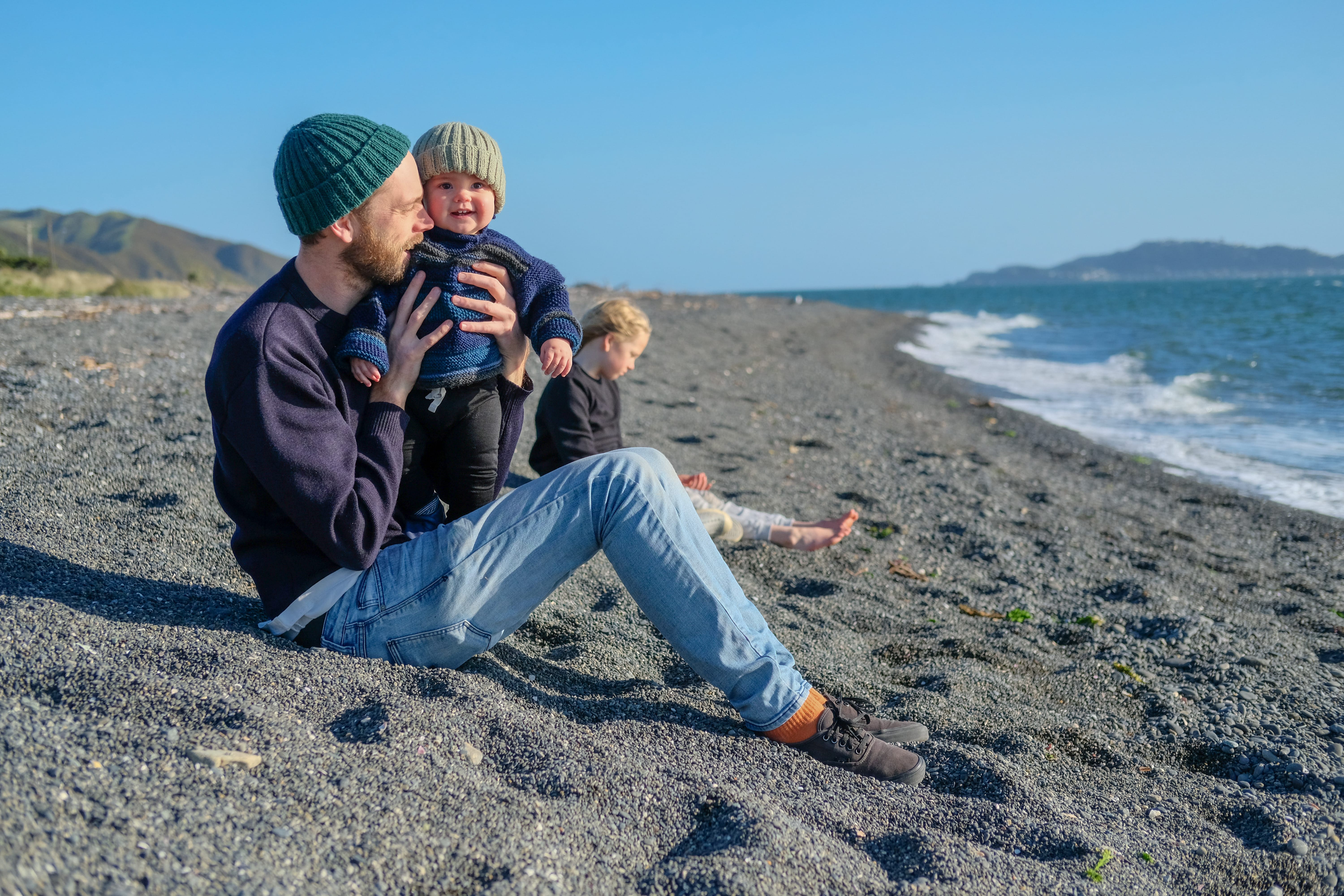 fatherhood: jonny calder
As Father's Day is approaching, we chatted to Jonny Calder from Supreme Coffee about his life as a Dad to three boys, their life in Wellington, and quite importantly, double bouncing his boys on the trampoline.
My family consists of my gorgeous wife Carlie and 3 beautiful boys..
Harper (7), Scout (4) and Juno (9mth).
I work for Coffee Supreme in a Marketing/Business Development role. I get to work with a very talented group of people. I get to combine my love of hospitality and design/brand which is very important to Supreme. I also love the product. Not only the physical coffee but the act of having a coffee. Sharing a pot. A lot of things happen over a coffee. It's nice to be able to be a part of that.
We've recently relocated to Wellington and are in a little cottage in Eastbourne on the far side of the harbour. It's a pretty special place. The beach is only a couple hundred metres away. Great for a swim in summer and we still enjoy getting out for a blustery walk on the beach or building forts out of the driftwood when it's not so warm.
The best piece of advice when it comes to kids...
is that all the cliches are true. Time flies and for us enjoying the moments and not rushing to the next is something we are conscious of. Especially those newborn weeks they are so fleeting!
We try to parent instinctively (although Carlie reads a lot too) and with purpose...we do what works best for our family.....and that looks different for everyone.
Carlie has really made a difference to my journey of parenthood. She's inspiring. Always putting the family first and is great at taking a step back, pushing reset when things aren't going as planned.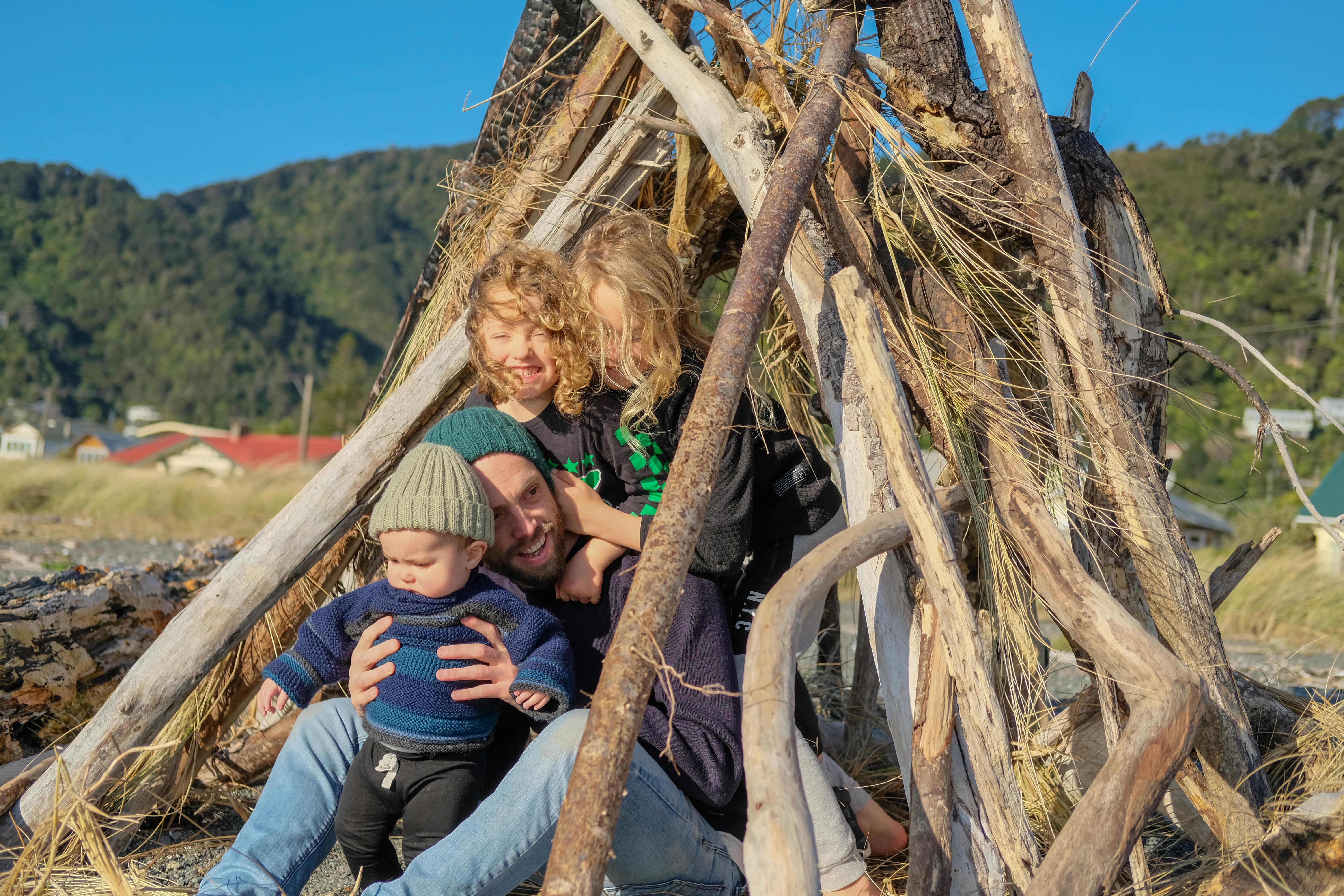 The most challenging thing since becoming a dad has definitely been that work/life balance.
Trying to put effort in at work to grow and provide with the family but give family the time and effort too!
A special memory I have with my dad from when I was younger...
I remember dad letting us help with everything. I'm sure we were annoying, slowing everything down but as a kid you want to help and helping dad build something is pretty special.
The boys bring crazy energy to our family! So we're learning to embrace it. Scout's always up for being crazy. The new trampoline is bringing the fun. #doublebouncelife
My proudest parent moment so far...
There's a new one most weeks. Seeing the boys interact with others in a kind, caring way makes me super proud.
Story time is special part of our days. We aim for one-on-one stories which is tricky but it's never missed.
My go-to baby essential for the newborn or early baby days...
Anything Nature Baby obviously. Jokes aside it's pretty amazing to have all 3 kids wear the same merino onesies and i'm sure they'll be passed on to someone else. Wraps too. And we got a moses basket for Juno. Can't believe we didn't for the other kids. So good for portable sleeps.
A day in the life
I LIVE... in front of the stove making eggs and pancakes, in my car sipping coffee, in the office, on skype sipping coffee, in my car wanting beer, at home eating dinner, reading stories then watching Anthony Bourdain (RIP).
I AM CURRENTLY READING... the The Wild Robot with Harper. It's so good.
I'M LISTENING TO... Kamasi Washington
MY WEEKENDS START… too early. But there's coffee. And then fun to be had.
ONE ITEM I CAN'T LIVE WITHOUT IS… hot sauce.
THIS FATHER'S DAY… will start with body slam from Scout (who's teaching juno his tricks), hand made cards and pictures by Harps. Maybe coffee in bed? Maybe French toast made from Wellington Sourdough Sultana Loaf? Hint hint guys...
Thanks so much for being part of our journal, Jonny. Wishing you and all the Dad's a Happy Father's Day! xx Nb