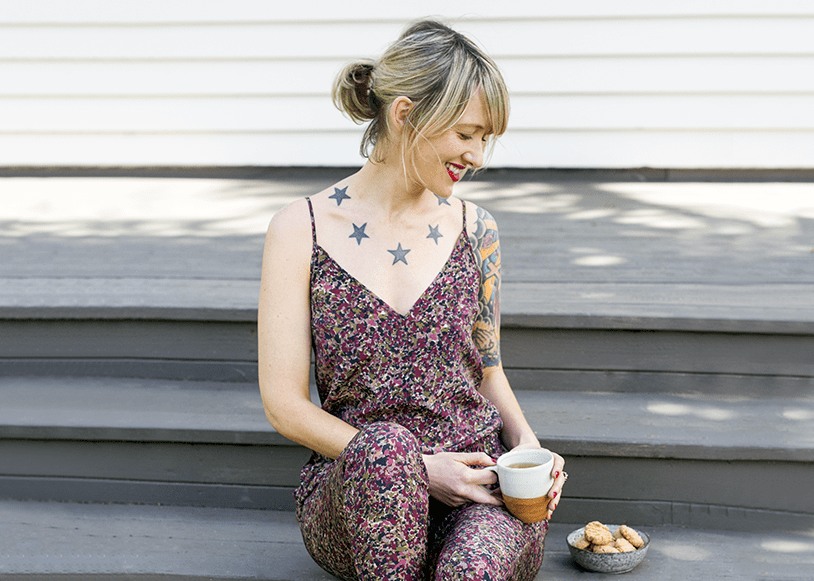 motherhood: kelly gibney
Kelly Gibney is a freelance food writer, stylist and photographer and mother of two! This year she released a wonderful recipe book, Wholehearted, filled with wholesome and nutritious meals for the whole family. We chatted to Kelly about life as a mama, a few of her favourite things, and how she will be spending Christmas this year. She has also shared this yummy recipe for gingerbread people to make with your little ones, enjoy!
I'm the lucky mother of
Bonnie who is 5 years old and Diana who is 5 months old. I'm a freelance food writer, stylist and photographer. I work from home. It's a juggle but really awesome. My lovely partner Luke (structural engineer) is our anchor. We live in Te Atatu Peninsula which is a lovely community.
That Eckhart Tolle gem 'This too shall pass' is such a good one...
It's easy to feel during a tricky phase or challenging period that it's always going to be that way but kids change SO fast. I'm much more relaxed with challenges this second time around. On the flipside I also don't count on the blissed out periods always being the norm – I just enjoy it all as it comes. I'm always working on going with the current of parenting.
The best piece of advice I'd have is to trust your instincts and intuition. There is SO much advice out there but it's your right to approach things in the way that best suits your family. Also, look out for each other. The early days can be so intense and knowing the other person has your back is golden.
One of the most challenging experiences I've had in motherhood was...
A couple of pregnancy losses before I fell pregnant with baby Diana. It was heartbreaking and isolating but also brought us closer together as a little family – we really look after each other. The gratitude we have for our newest arrival is huge. Being able to bring children into the world cannot be taken for granted.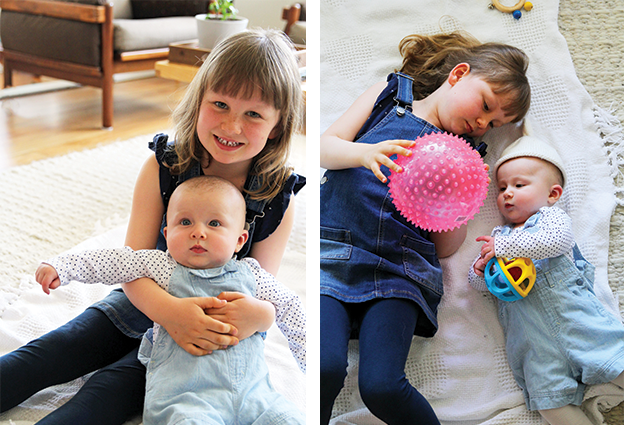 A DAY IN THE LIFE

I live… in Te Atatu Peninsula
I am currently reading… DeePak Chopra 'The seven spiritual laws of success' (for the 2nd time) and Elena Ferrante 'Those who leave and those who stay'
I'm listening to… Margo Price – loving this incredible storyteller and her sweet voice
My weekends start with… Coffee! I've just given up drinking coffee during the week but I so look forward to sharing a perfect brew with a splash of cream on the weekend with my partner Luke.
One item I can't live without is… a good book. Reading is the best way for me to unwind and escape.
Must have baby/newborn essentials? I love cotton nappy squares. They have a million helpful uses. A moses basket is the sweetest portable baby bed and I found a ring sling or baby carrier priceless for making it possible to still get things done while soothing a clingy baby.
Lastly, healthy snacks! Being a mum to a newborn is hungry work and making sure there's good quality food on hand will make a difference. I really like Franjos feeding cookies.
Our Christmas Day will involve...
A big cooked breakfast and bubbles first thing (Luke's department) and then an early dinner later on. I'm making a slow cooked lamb plus a bunch of yummy salads and sides. Still deciding on dessert. Possibly some flourless chocolate and cherry puddings.
As more children have been added to the mix, Christmas has becoming noisier and way more fun. The last few years we've had an early morning scavenger hunt for the kids (Bonnie plus cousins) to find their santa sacks. My partner Luke is amazing at writing out sweet clues and organizing the hunt the night before. We also always leave out cookies and milk for santa plus a sprinkle of oats on the lawn for the reindeer.
One thing I love about Christmas is...
That everything stops. We all go hurtling towards the end of the year at such a crazy pace and then we finally get to relax and be with our loved ones.
Thank you Kelly for sharing with us, we hope you have a lovely Christmas with your family xx Nb