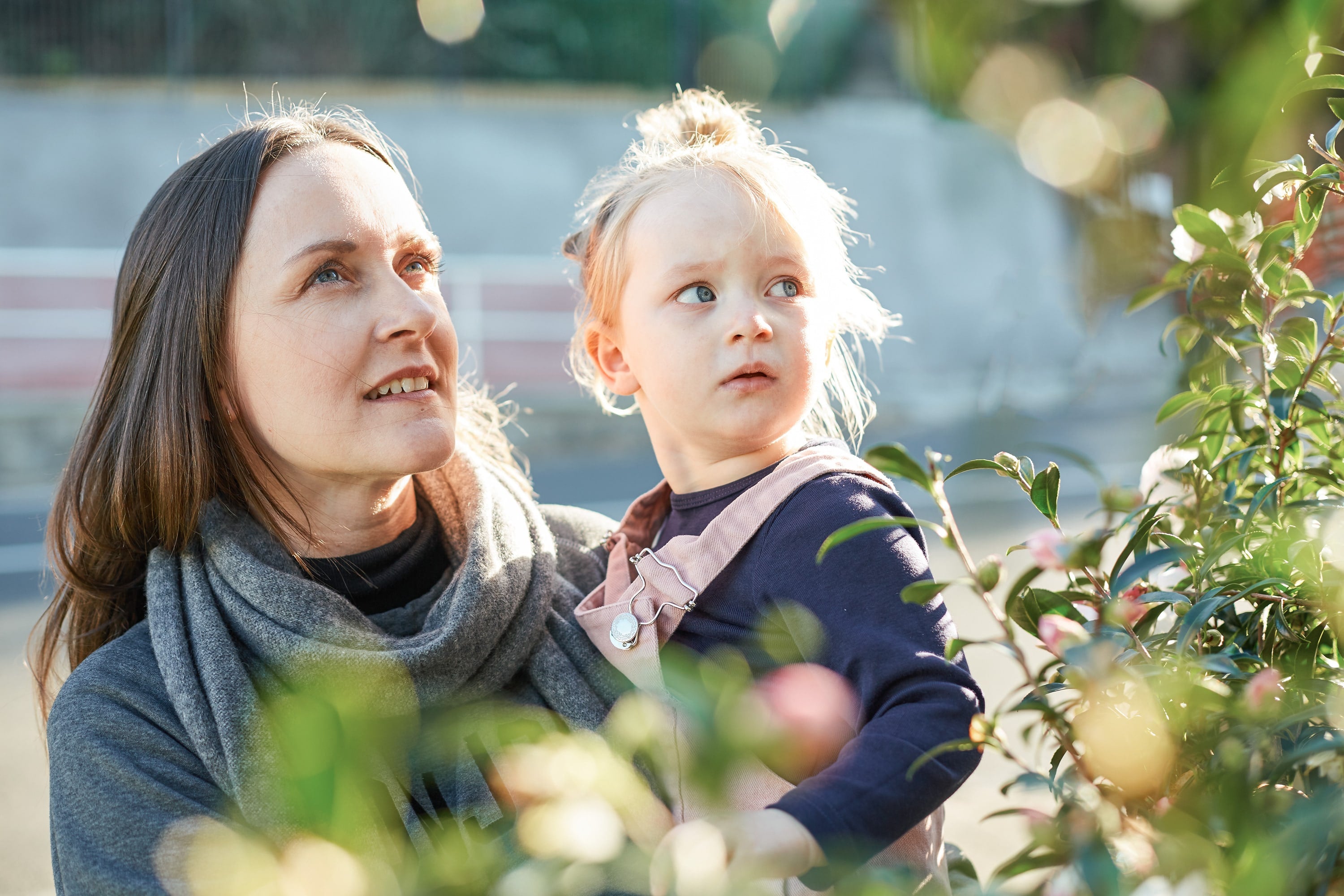 motherhood: lisa lockhart
Lisa Lockhart chats to us this week as we launch 'The Little Gardener' about life as a mum to Wren, as well as running Garden Objects in Auckland. Lisa shares some tips about getting littles ones out into the garden, and her top picks to have on hand for planting and harvesting some yummy organic goodness.
I'm Lisa Lockhart and my daughter is Wren...
she is 2.5 years old and when I'm not looking after her I'm one half of Garden Objects – an online store for garden lovers. The other half of GO is Jared, the love of my life and Wren's dad. He is a Landscape Designer. I'm originally from Berkshire in England, but moved to New Zealand after I met Jared. We live in Kohimarma, Auckland, and can see the beach and Rangitoto from the kitchen door. We decided to base ourselves in Kohi when we first arrived and have stayed there ever since – for now it has the perfect mix of everything we need.
Parents, don't be afraid to do things your own way...
Take time to listen to your child, they'll have a way of letting you know what they need and want. Breastfeeding was such a big challenge for me and so early on in my parenting experience. I had very low milk production and found the whole process incredibly difficult. I did everything I could to help boost the milk flow (from rebirthing to pumping to domperidone) but in the end I had to come to terms with the fact that things were not going to change so Wren was exclusively formula feed from about 8 weeks.
Garden Objects began back when....
Jared originally had the idea to start a gardening shop, and compiled a list of stockists and suppliers. It wasn't until we started dating that he showed it to me, and then I guess the seed was sown (so to speak) and it became something we kept coming back to. When we finally decided to relocate from London to NZ it seemed like the best time to see if we could make it happen.
Little Wren, picking some lavender and flowers in the garden.
It's hard to find a balance when you run your own business..
as there is no 9-5, but essentially that's why we wanted our own business. Our work is definitely our life, but that's how we always wanted it – we love what we do. For my well-being I like to spend a few moments quietly reading and drinking tea – it really helps me to recharge.
When possible we eat dinner together. I love sitting around the table together catching up on our days. I also love to cook, feeding others fills me with joy.
Gardening is a constant conversation in our home...
Jared and I are always sharing ideas and plans of things to plant or projects he is working on. We also love to encourage Wren to pick flowers for the table – hibiscus are a favourite at the moment. Wren loves to help in the garden. She particularly likes to help with sweeping and watering. We've also just planted some pots with annuals and seeds.
What are your five garden essentials?
1. Secateurs – completely invaluable in any garden
2. Hand trowel – for weeding
3. Hand fork – for digging holes
4. Watering can
5. A trug - to collect your harvest, whether it be beans or blossoms.
A day in the life
I live in...Kohimarama, Auckland
I am currently reading... My Beautiful Friend by Elena Ferrante
I often find myself cooking... my friends chicken soup.
I'm listening to... The Wiggles, on repeat.
My weekends start with... a family breakfast.
One item I can't live without is... chocolate.
Some seasonal fruit/ veggies growing right now... as winter approaches it is the perfect time to think about planting garlic. Traditionally this should be done on the shortest day of the year, and harvested on the longest. A perfect job for little ones.
Thanks for sharing with us Lisa, maybe it's time for us to get outside and plant some garlic... The Little Gardener is available to shop now, pay a visit to our friends at Garden Objects, and get out in the garden! xx Nb