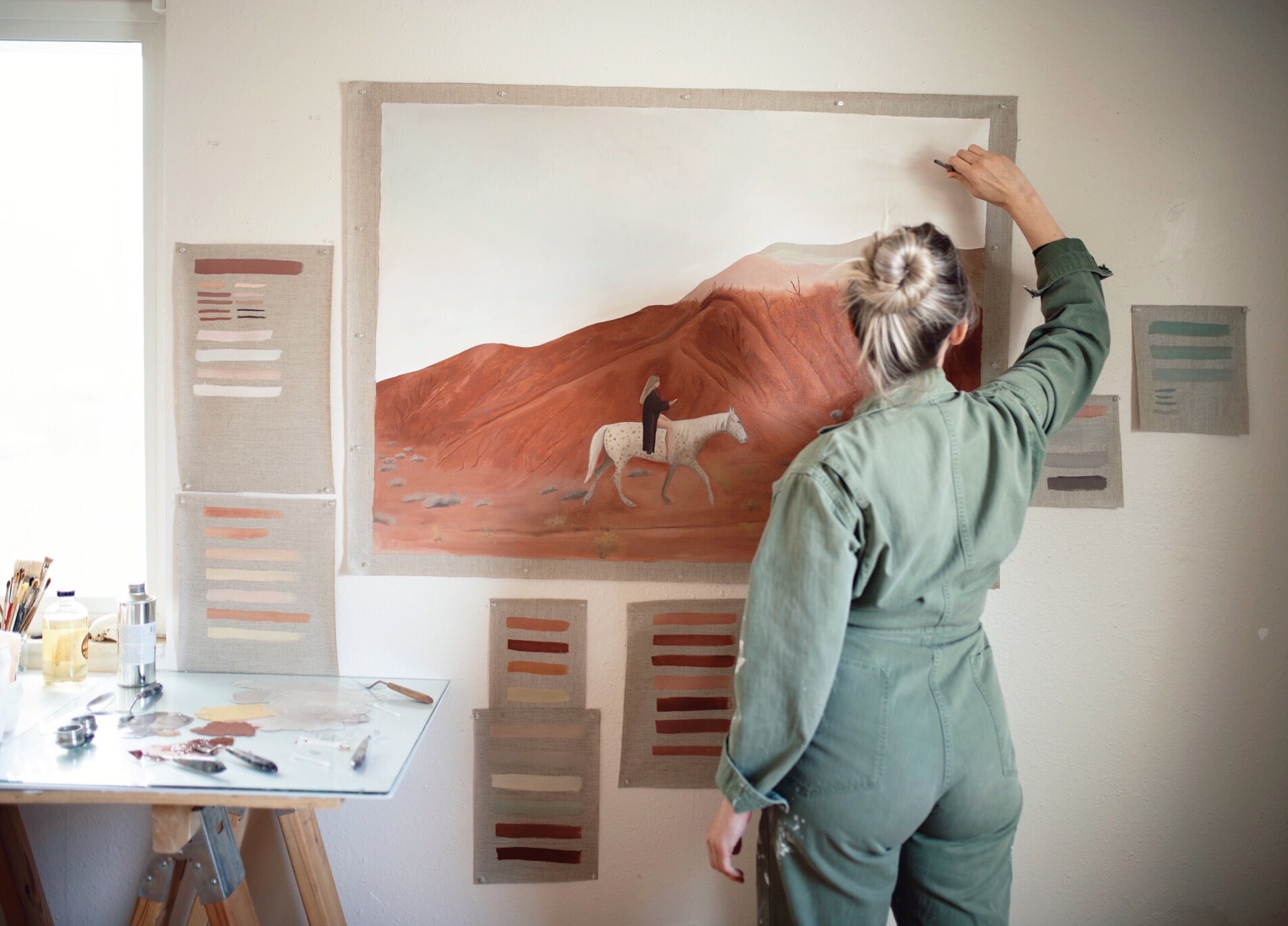 motherhood: stella maria baer
We chatted to the lovely mama and artist, Stella Maria Baer. She shares with us her journey of motherhood alongside her beautiful works, that are inspired by her natural surroundings.
My name is Stella Maria Baer and I live in Colorado...
with my husband Seth, our two boys Wyeth and Whit, and our sheepdog. I am a painter and photographer. I grew up in Santa Fe, New Mexico, and I still spend quite a bit of time there, both for work and with family. We've lived in Colorado for four years but to be honest New Mexico still feels like home. I love the colors of the dirt and rocks, the thunderstorms, the high mountain desert.
In my work I explore the mythology of the desert and the cosmology of space...
I work in both watercolor and oil. For the past five years I've been working on a series of paintings of moons and planets. In the past three years I've started making my own paint out of dirt and sand.
When I was pregnant with Wyeth some of the best advice I recieved was from one of my best friends...
artist Aleishall Girard Maxon, told me not to be afraid of anything I felt but to let myself feel everything I was feeling. That advice was gold, particularly as I didn't love being pregnant. That wisdom has carried into my life as a mother. I think of that often now as I'm in the tiny baby stage again and feeling very sleepy and overwhelmed with life with two boys. I try to be honest with myself and others about both the difficulty and the beauty of motherhood, and how you can feel both so intensely, often at the same time.
Welcoming baby Whit into our family has been full of wonder and full of tears!
Two is harder than I thought it would be. We are so grateful for the arrival of Whit but I'm also grieving the loss of connection I had with my older son, Wyeth. With one child I was able to work during nap times and the weekends but with two little ones their naps almost never align. I'm trying to be present to the beauty of this baby stage, as I know it flies by, but also stay present to my toddler and my husband and myself and my painting practice. I think it's the most difficult time I've gone through, to be honest. I've been struggling with postpartum depression and learning to seek help from a counselor and from friends. I'm realizing I need time away from my babies in order to be present to them, even if just a few hours a week. We haven't figured out any of those rhythms yet but I know they will come with time.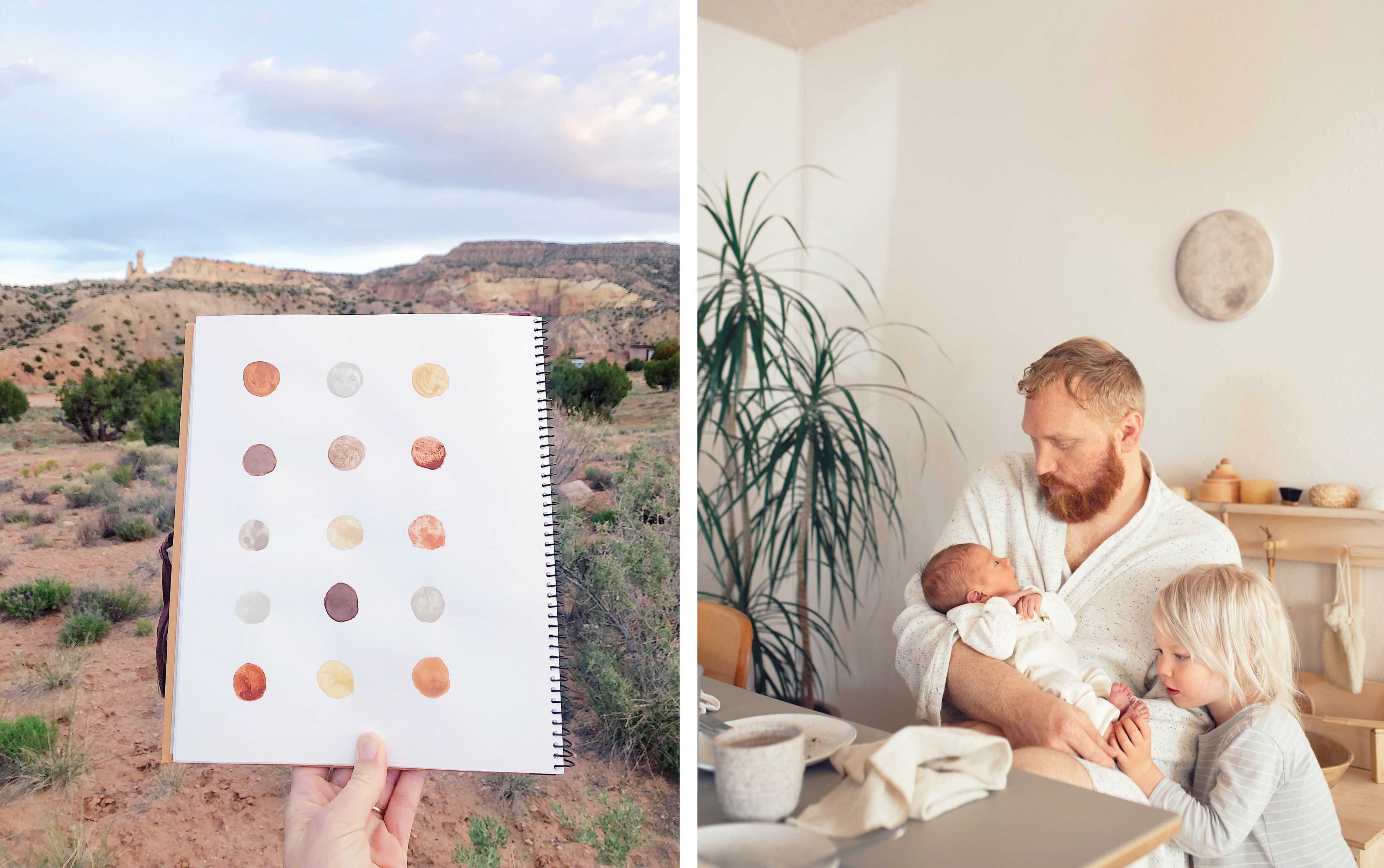 My own mother is a great source of inspiration...
I remember as a child she would always say, "today we're not going to buy anything, we're going to make things." I try to bring that sort of creativity into my time with Wyeth and Whit. And my friend Kristen Sink, a photographer, has been such a wonderful mother friend. She has a little girl named Poppy who is Wyeth's age and we have weekly playdates where we talk about children, baby sweaters, art, being artists and mothers, baby goats. Her friendship has been such a gift.
We all bring the fun to our family...
My husband Seth is very funny, and he and Wyeth are always coming up with games that make us all laugh. Whit is also very silly. We love going on long drives as a family, in the mountains or deserts nearby, even though that means both boys will cry for part of the way home.
Top three newborn essentials?
I really love the Nature Baby merino knit blanket and pointelle kimono and pants! The merino is so soft and been a great blanket for snuggling with baby Whit. And the pointelle set is so soft and beautiful and perfect for delicate baby arms and legs.
A day in the life
I LIVE… moving through phases of light and darkness, much like the moon.
I AM CURRENTLY READING… The Pink Book, by Kaye Blegvad.
I FIND MYSELF COOKING… I haven't been cooking much lately to be honest, just eating tomatoes from our garden. Getting ready to harvest the rhubarb before the first frost.
I'M LISTENING TO… Vampire Weekend's Father of the Bride.
MY WEEKENDS START WITH… a bakery up the street from us makes the most delicious donuts. Wyeth and I go get them once a week and bring them home to Seth and Whit. We both cherish this time just the two of us going to the donut shop.
ONE ITEM I CAN'T LIVE WITHOUT IS… my French easel. I do most of my painting in my studio these days but I love painting outside in the desert just after the sun has set and the moon is beginning to rise.
Thank you Stella for sharing your journey so openly with us, we wish you and your growing family all the best and will look forward to seeing more of your magical art again soon xx Nb